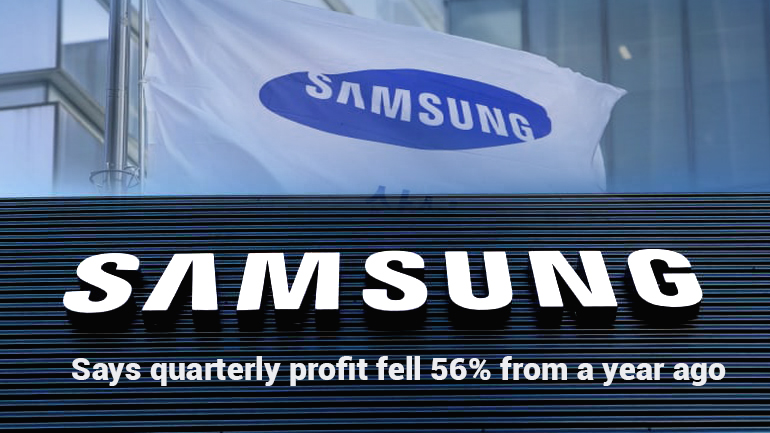 Samsung Electronics said on Thursday that its operating profit for ending three months in September drop 56% versus the same duration in the last year. It is really a challenging environment for worldwide chipmakers. It is the fourth consecutive quarter where operating profit of Samsung fell year-on-year. However, that number raised around eighteen percent from the last quarter. Also, it beat the guidance the firm provided at the start of this month. According to analysts, there might be a sluggish recovery in the space of semiconductors, where chipmakers fought because of low prices and less demand for memory chips. Shares of Samsung rose about 1.6% in the morning trade while ended the session smoothly.
The difference between what the company reported and what it had reported last year:
Net Profit: Around 6.29 trillion Korean won versus 13.15 trillion won one year back
Operating Profit: $6.67 billion (7.78 trillion Korean won) versus 17.57 trillion Korean won a year ago
Consolidated sales: 62 trillion Korean won versus 65.46 trillion Korean won one year before
In the last, basic incomes per share were 899 Korean won related to 1909 Korean won from a year ago.
Outlook of Samsung
Samsung said, for the fourth quarter, it expects components demand to turn slow in general within weak seasonal effects, whereas expenses of the market expected to increase to address year-end sales of smartphones. The firm added, it expecting to memory chip demand to grow somewhat quarter-on-quarter on the inventory building back by customers in reaction to worldwide macroeconomic worries. Components related to memory used in smartphones and data centers compose the main profit-making business of Samsung.
Smartphone displays expected to report leaner results next quarter as demand drops short of early hopes for some specific smartphones, and costs increase because of lower use in some production lines, Samsung added. The tech giant said, earnings of 4th-quarter for the business of mobile set to reduce from the 3rd-quarter because of rising costs of marketing and a decrease in smartphone shipments. Furthermore, the company said that for 2020, it forecast solid demand in the business of memory but signaled against enduring uncertainties in the external environment. Also, it hopes rising sales for products related to 5G as well as folding devices next year.
The analyst reported that deployment of 5G should help shoot the recovery in the space of semiconductor starting next year. 5G refers to the 5th generation of ultra-speed mobile internet that intends to provide quick data speeds and additional bandwidth to address increasing levels of web traffic.
Quarter three breakdown
The tech giant said a constant decline in the memory chip market depends on stronger sales of smartphones and enhanced utilization in mobile OLED screens in the 3rd quarter. OLED or organic light-emitting diode is a kind of screen that gives sharper displays. The semiconductor business of Samsung, which contains memory components used in computers and smartphones, posted 3.05 trillion Korean won in quarterly operating profit, decline 77% from one year before.
The Information Technology and mobile business posted 2.92 trillion Korean won in profit, increase 32% from the same duration last year and 87% from the 2nd quarter. Revenue was about 29.25 trillion Korean won. The Korean-based Samsung said its smartphone earnings for the quarter enhanced because of robust shipments of the Galaxy Note 10, an improved product mix, and advanced profitability in the mass-market segment.
Read Also: Samsung Facing Lawsuit against its claims of Water resistant devices