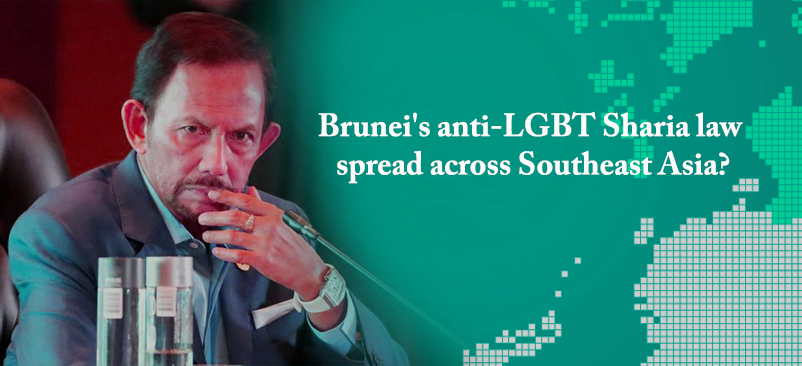 Sultan of Brunei was famous as a godfather of excess for decades and stayed the wealthiest person of the world for several years. However now, at the age of seventy-two, the ex-British protectorate and Brunei's Sultan is on the hit list of many activist and governments all over the world due to his introduction of Sharia Laws in his country. And these laws include the severe punishments like stoning death for homosexuality or adultery and amputation of limbs for the act of theft.
On the other side, the critics said that Sultan's this move of implementing Sharia Penal Code is a symbol of the growing impact of conservative laws around Southeast Asia. The Brunei Project's founder Matthew Woolfe said that now the sultan is getting in years and he has not a clean reputation referred to his family. Also, few people assuming the implementation of these laws as a way to wash out the lousy family impact and creating his legacy.
Sultan of Brunei while Addressing to his Nation
Hassanal Bolkiah, the Sultan of Brunei, addressed his people that he wants to grow stronger, practical and visible Islamic teachings in the country. He added that this Islamic system guarantees and preserves the rights of all the human beings irrespective of faith and respect.
 History and Lifestyle of Hassanal Bolkiah
Whereas, this message seems at odds with the formal living styles of the sultan and his brother Prince Jefri Bolkiah. During the time of the 1980s and 1990s, both these brothers have a reputation that they used to throw the lavish parties, running harem at their fort and going on multimillion-dollar spending sprees. They are owners of luxury hotels in Paris, New York, and London. Jefri is also the owner of a luxury giant yacht called Tits with two small vessels named Nipple 1 & Nipple 2.
An associate political science professor at John Cabot University and Southeast Asia expert, Bridget Welsh said that Brunei's Sultan and his brother Jefri recognized for their harems, their sexual exploits and their excesses in terms of cars purchasing. The staff of the palace told litigators that they attend nightly functions and parties at nightclubs where Bolkiah, his brother, and their male friends would have authority to select their favorite women for sexual intercourse.
But both brothers denied all the allegations against them. Eventually, the United States court granted the immunity to the brothers from legal action due to their joint status as the state's foreign head. The Sultan stated that as a small country they always prioritize their prayers to Allah. It is driven by their national Philosophy of Islamic, Malay, and MIB (Monarchy) that is running for hundreds of years.