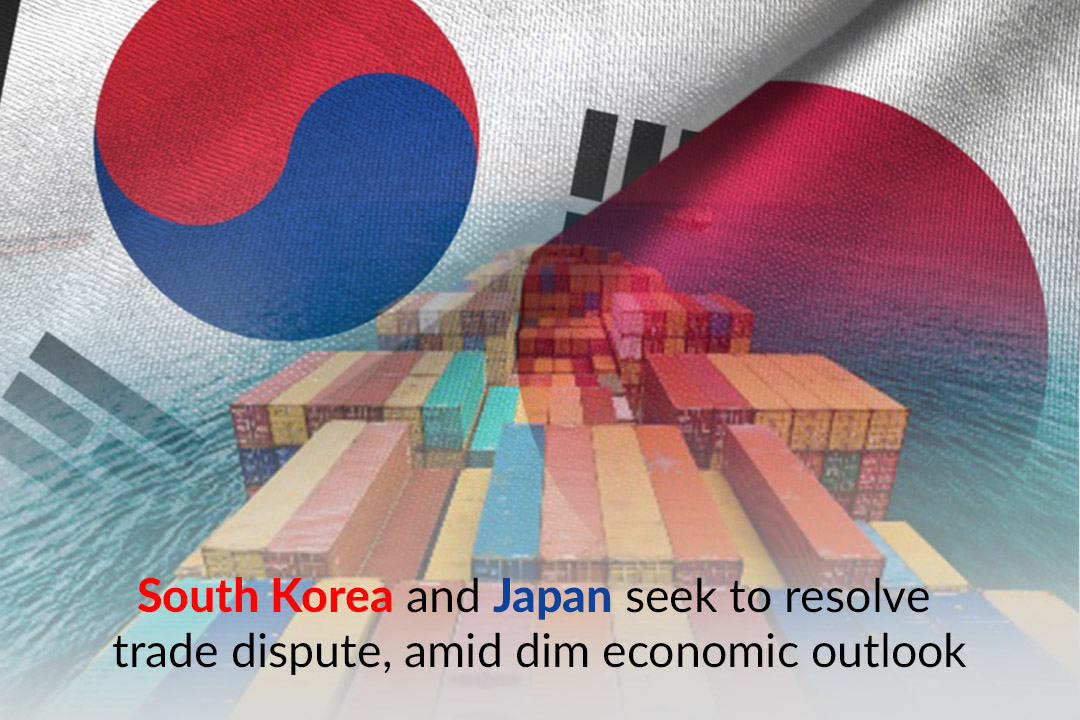 After the announcement of Seoul that South Korea and Japan will be holding senior-level negotiations in December, some analyst said that the development in talks suggest that the rigidity in relations may be melting for now. Asia analyst at The Economist Intelligence Unit, Waqas Adenwala, said that now he felt that tensions reduced as compared to the situation in summer. On Friday, he told a news agency that he believes the minor positive gesture in the situation that Moon Jae-in, the South Korean President and Shinzo Abe, the Japanese Prime Minister, making efforts to set a meeting on the sidelines at the China-Japan-South Korea summit in China.
According to a Reuters report, the Trade Ministry of South Korea said that it had settled to hold high-level dialogs with Japan in the 3rd week of December to talk about export controls. Recently, two powerhouses of Asia locked in a trade clash that started in July 2019 when Japan ban exports of three chemicals to South Korea that are essential for making display screens and semiconductors. Senior Advisor at Wisdom Three Investment, Jesper Koll said that relations of Japan and South Korea too much clear on the fix as both countries working hard to regularize the relations. Instead of several views on historical events keep on, logicality on the trade front and economic policy poised to prevail, he added.
Koll said that both nations' leaders realized that they have a concern to demonstrate to other Asian countries that rules-based free trade is the best base for common prosperity not only in Japan and Korea but all over Asia and the world.
Military Fallout between two nations
Since South Korea and Japan fallout, tensions worsened with the two countries taking each other off special trade lists and South Korea threatening to tussle military intelligence-sharing accord with Japan. Asia director at policy consultancy company Eurasia Group, Scott Seaman, said that though a near-term agreement of some type that prompts both nations to restore two-sided trade relations to their pre-crash state cannot rule out, they think the dispute will continue well into 2020. Finally, South Korea renewed the military agreement (GSOMIA), just before the deal about to expire.
Adenwala of the Economist Intelligence Unit said that the decision might be influenced by the United States, as scrapping that agreement would disturb the interests of the United States as well in the region. However, he mentioned that even after re-signing the deal, the two countries might not agree with to proceed further with the trade dispute. The EIU's Adenwala said that these examples reflect that any temporary solution they reach will only be unstable at best as they still have deep-rooted mistrust against each other.
On the other hand, Seaman said the military intelligence deal between two sides would likely hold collectively for the predictable future, whereas uncertain if Moon will use it as a threat again if attempts to resolve the trade matter falter, however, if North Korea builds up egging on next year that might lead to firming up the dispute that the United States, Japan, and South Korea must collaborate as deeply as possible to be able to manage this risk efficiently.
Both Nations' Economies Hurt
Reuters reported on Monday that both Japan and South Korean factory activity contracted again in this November. Seaman of Eurasia Group says that the viewpoint for both economies is not specifically bright, and an even more penetrating and bitter trade battle would surely not benefit either country. Wisdomtree's Koll said for Japan that's generally due to the typhoon disturbance, the consumption tax hike, and inclusive weakness in worldwide demand, specifically in auto vehicles.
While referring to the economic data of Japan, Adenwala says that the statistics for October are too weak, whereas it's a mixture of factors, the most significant of which is the escalation in the consumption tax. Adenwala explained that the consumption tax elevated from eight percent to ten percent on October 1st for most goods and was extremely contentious in Japan and led to a drop in private consumption. Therefore, naturally, with consumer falling demand, the local industrial activity mainly suffered as producers scaled back production levels.
Fall in General ٰndustrial Levels
On top of that, the trade war between the United States and China, along with the dispute with South Korea, have all contributed to a downfall in general industrial levels, the EIU analyst. However, getting consumption levels higher surely a priority for the administration of Abe, said Koll. He added, the issue of Korea unlikely to have a momentous positive or negative effect either way – it is significant for national pride and popularity of the administration of Abe.
Meanwhile, senior Asia economist at Goldman Sachs, Goohoon Kwon, says that all indicators propose that things in South Korea are bottoming. Therefore, they think that in 2020, things will get better. Kwon said that once the United States-China trade dispute slows, export economies like Korea will gradually return to normal, whereas the growth will be slightly less until at least the 2nd quarter.
Read Also: Japan – South Korea trade conflict could have Global Consequences