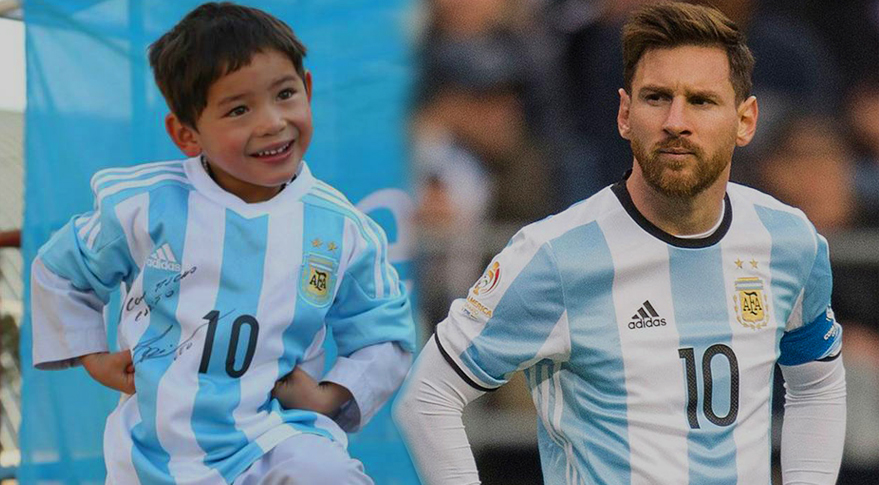 Murtaza Ahmadi a 7-year-old boy wearing an Argentine football shirt in a picture for showing his love for Lionel Messi got viral in Jan 2016. Kid's shirt has the appearance of a white and blue striped plastic bag having Messi's number and name on the back carved in a pen, got the child meeting with his celeb, a signed football, and two autographed shirts after 11 months.
Now, three years later Ahmadi himself becomes a celebrity because he now known worldwide due to his famed pictures with Lionel Messi. Unfortunately, at this time he didn't want that people may not know him and he is on the run.
History of Ahmadi and Current Threat from Taliban
Basically, Ahmadi is an Afghan National, and he is a citizen of a country where the Taliban are in power even after the US-Afghan continues-war. The young boy's trouble actually starts after his short visit to Qatar to meet his hero. In November, the Taliban attacked the Jaghori district in Province Ghazni of Afghanistan where the boy grew up. Ahmadi shares his terror with CNN that the Taliban were killing his relatives and searching their houses. They might stop cars and buses and kill their passengers, penetrating homes and killing people.
Ahmadi added he and his friends not allowed by the  to play football and even go out of the house. They use to hear the scream of people, the sound of Kalashnikovs, rockets and heavy machine guns while staying at home.
Shafiqa, the mother of Ahmadi, scared of his fame and said that he became a target for threats from the Taliban. She further added that from the first very day when his son got fame, life became difficult for them and their family. Moreover, she said that not only the Taliban even several other people start thinking that his son awarded a lot of money by Messi. Due to that situation, they scared and stopped sending their son to school for the reason that they got many threatened messages day and night.
Last Meeting of Ahmadi with his Father
After that situation, Ahmadi requested his mother to migrate anywhere else from Jaghori. So, his father helped Ahmadi and his mother Shafiqa to move their nearby city Bamyan. As said by a young boy he saw his father last time when they came there. The reason behind this is that his father came back after he shifted them to this place. He has only an option to talk his father on call whenever he calls his mother, and he is missing his dad very much.
Later, Shafiqa and his son approached towards the capital of Afghanistan, Kabul. And now they hide their self among many other refugees. Even now, she doesn't feel safe and has a fear that someone might kidnap her son for his son's label of contact to millionaire Messi. She wished that it was better for them that her son might not get fame as their lives are now at risk. In the last Shafiqa is requesting his son's hero that they need his help to leave their country to switch towards save place. She appeal's Messi that he help his son to leave their homeland for Murtaza's better future. Afterward, international media and social media gives a lot of coverage to this family's request so that it may be caught noticed by Lionel Messi.