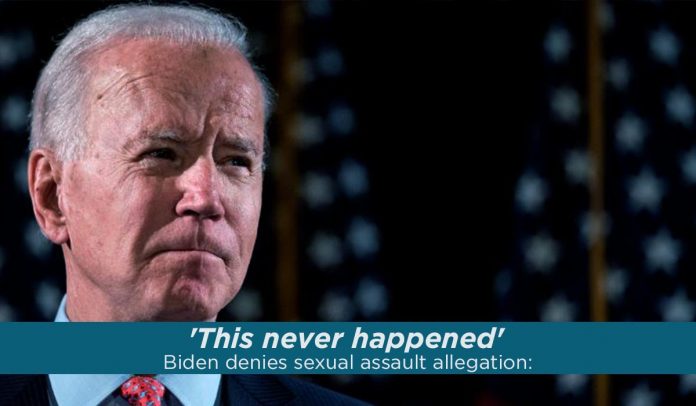 Joe Biden, the former vice president of the United States, stated on Friday in which he denied the claims of his former aide that he sexually abused her twenty-seven years ago. Saying of the allegation of Tara Reade: "It never happened." This statement from Biden is the first comprehensive response from him to the allegations of Reade and comes as pressure built on him to discuss the matter personally.
The presumptive Democratic nominee, Joe Biden, is now responding to an allegation of sexual assault in the early 1990's. His accuser Tara Reade says Biden assaulted her when she worked for his U.S. Senate office — a claim he denies in a new statement. @CBS_Herridge explains. pic.twitter.com/plF1tr9lyr

— CBS This Morning (@CBSThisMorning) May 1, 2020
The presumptive Democratic 2020 candidate stated that the details of these allegations regarding sexual harassment are not simple, but two things are obvious. The first one is that everyone should treat females with respect and dignity, and whenever they step forward in any matter, you should hear them. The second point is to make an appropriate inquiry to their stories. He continued that responsible and authentic news organizations should scrutinize and evaluate the complete and mounting record of irregularities in her story, as she frequently changed in both big and small ways.
According to Biden, Reade said that she raised some of these matters with her senior staff members and supervisor from her office at that time. But all of them said clearly that she never came to them and raised issues or complain to them. Many news agencies that talked with dozens of former staff members didn't find a single one, who verified her allegations about him. Several of them spoke to the culture of an office that must not tolerate harassment case in any way.
Allegation presents a stimulating balancing act
The only response from the former president for weeks is a statement from Kate Bedingfield, the deputy campaign manager, who highlights the role of Biden in doing the Violence Against Women Act and saying what Reade claims "definitely not happen." Former staffers of Biden also said that Reade didn't complain against Biden at that time. The allegation comes as the former vice president is getting ready to take on Trump in the upcoming 2020 November General Election. Over a dozen women raised allegations against Donald Trump, ranging from unwanted advances to sexual harassment and abuses. But Trump denied all those allegations.
For some supporters of Biden, questions related to the allegations of Reade demonstrated a challenging balancing act – of showing their support for Biden's character and as a Democratic nominee while not declining a sexual assault allegation. Democratic representatives in particular vocally defended the hashtag #MeToo movement in the last few years, supporting that all accusers to heard in detail and treated as well whereas gender dynamics anticipated to remain at the front of the 2020 presidential contest, as Biden started his search for a female as his vice president.
Some of the women mainly expected in the shortlist of vice president nominees such as Minnesota Senator Amy Klobuchar and Michigan Governor Gretchen Whitmer. Similarly, the allies of Biden mentioned his decades-long sponsorship for women as well as victims of abuse and his effort on the Violence Against Women Act. The former president said in the MSNBC interview that he didn't know why Reade is alleging at this stage about the sexual assault. He adds that he will not question her cause. He didn't know why she said this after twenty-seven years of a long period.
The allegation of Reade
Reade served as a junior staff member at the office of Biden in 1993, and she accused him publicly last year of touching her neck and shoulders unethically and making her uncomfortable feeling. Reade first came forward with her sexual harassment allegation against the former president in several interviews this year with many TV shows. She said that in 1993, during her services as an advisor in the Senate office of Biden, she, unfortunately, came with the experience of sexual assault from Biden.
Reade's friend, who requested to hide her identity, told CNN that Reade told her the complete story that Biden sexually assaulted her on Capitol Hill. She said she remembered Reade called her during those days of the alleged assault. Similarly, a former Reade neighbor came forward and told CNN that Reade also told her within some years of the incident about the alleged sexual assault, somewhat in the mid-1990s.
NEW: A former neighbor recalled to NPR that Tara Reade relayed the same detailed sexual assault accusation against Joe Biden in a conversation the two had approximately 25 years ago.

The Biden campaign denies the alleged incident.https://t.co/SxrntbeuiU

— NPR (@NPR) April 30, 2020
Reades Brother about the sexual assault allegations
In the same way, during an interview with Reade's brother with the Washington Post that her sister told him in 1993 that Biden misbehaved her by touching her shoulders and neck inappropriately. But she never told him about the alleged sexual assault. But many days after his interview with the paper, he texted the Post that he recalled that she told him that the former then-Senator put his hand under her clothes.
Reade said that she complained to her several office colleagues at that time about bad interactions with Biden that made her uncomfortable, but not told about the alleged sexual assault. Furthermore, she said that she also filed a complaint at the time with a personnel office on Capitol Hill, but now she has not any copy of that complaint. It is not clear the type of complaint and at what office.
Senate Papers of Biden
Media and other political workers raised pressure on Biden to release his papers from his Senate days, which might put light on the assault allegation. Those Senate days papers are at the University of Delaware and will not publicly disclose until two years after the former president leaves public life. The university states that it is still curating the documents collection, a procedure that may complete in the 2021 spring. So, a spokesman of the university said on Thursday that it couldn't recognize what files and documents may found in the collection.
According to Biden, his papers at the university don't contain personnel files. However, personnel files from the Senate in those days might be kept at the National Achieves. Biden requested Julie E. Adams, the Secretary of Senate, ask the Archives to find out any record of the complaint that Reade filed and make available any such document to the press, if any. The record will be there if there was ever any such complaint, Biden adds.
On Friday afternoon, Biden sent a note to Adams asking that office collaborates with the National Achieves to trace and public any complaint from Reade as well as any other document in his records that relate the allegation. The National Archives states in an email to CNN that any personnel complaints from 1993 would keep on under the authority of the Senate. CNN interviewed over a half a dozen former Biden advisors who worked in his office of Senate in the early 1990s. But all of them denied having any knowledge regarding the assault or sexual harassment allegations.
Read Also: Democratic Congressional leaders remain silent on Biden Sexual Assault allegations