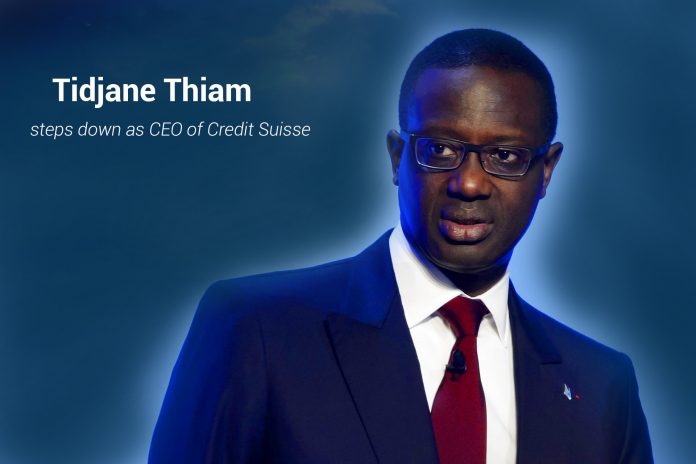 Tidjane Thiam, the CEO of Credit Suisse quits after the spying scandal, after him, Thomas Gottstein will now take the responsibility as CEO of the company; currently, he heads the Swiss unit of the bank. On Friday morning, the board of directors stated that it had solidly accepted the resignation of Thiam, following the results of the fourth-quarter and full-year of the Swiss lender.
The Board of Directors of Credit Suisse Group has unanimously accepted the resignation of Tidjane Thiam and appointed Thomas Gottstein as the new CEO of Credit Suisse Group AG.

— Credit Suisse (@CreditSuisse) February 7, 2020
Urs Rohner, the chairman of the financial services firm, said that Thiam made a huge and constructive contribution to the growth of the bank since he joined in 2015. He will resign from his designation on 14th February 2020, after around five years of his services. Rohner further added that under the leadership of Tidjane, the bank instantaneously repurposed strategy, reduced costs, encouraged diversity, restored capital, produced an extraordinary level of co-operation between several divisions and de-risked the business of the bank.
In other words, he praises him by saying that it is also his credit that the bank has a solid foundation, and eventually, the banks return successfully to profit. Whereas Thiam expressed proud of what his team achieved under his supervision, and he would be a keen supporter of his team and colleagues' actions. In March 2015, the French-Ivorian joined the bank from Prudential. Shares of Credit Suisse drops around 4.2% at the start of the trading session on Friday.
What is Spying Scandal associated with Credit Suisse?
After the ex-wealth management boss Iqbal Khan, who was leading to competitor UBS, a Swiss multinational investment bank, the news follows a protracted spying scandal at the bank. Private contractors followed the news in a bid to investigate whether he poached clients and colleagues. The law firm, Homburger's internal investigation about the spying scandal that rocked the financial firm in 2019, said that they found no evidence that Tidjane Thiam was aware of the surveillance.
On Friday morning, Thiam retold that he had no information on the observation of two ex-colleagues. It definitely distributed the bank and created anxiety and hurt. He felt the guilt of this happening, and it should never take place. However, after the finalization of investigation, the firm removes Pierre-Olivier Bouee, the COO of Credit Suisse after establishing that he individually directs the spying. Due to this scandal, the private investigator committed the suicide who worked as a middleman between the private security firm and second-largest bank of Switzerland.
Read Also: Surveillance Tech of China is spreading Internationally