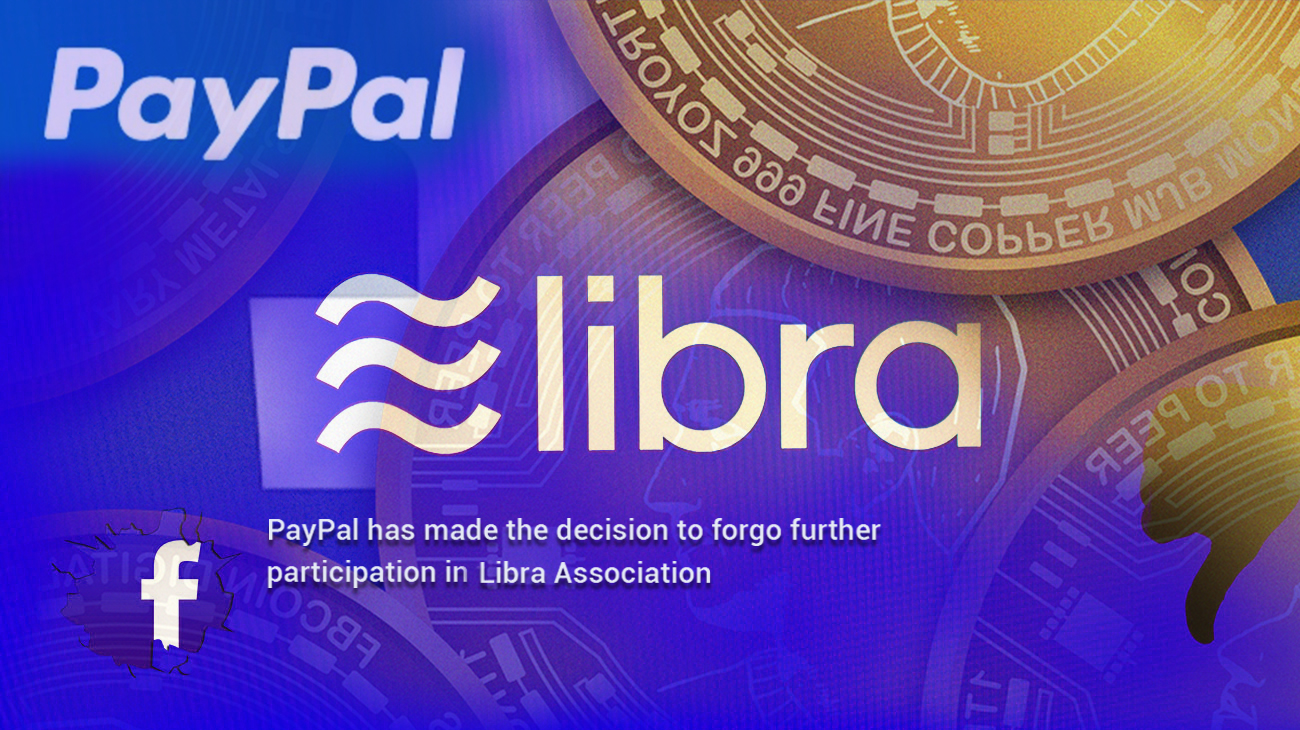 On Friday, PayPal announced that they are backing out from the Libra Association of Facebook. In a statement, PayPal said that at the moment it decided to skip further participation in Facebook's Libra Association. Instead, they will focus on proceeding their current ambition along with business priorities as they are trying to democratize the approach to financial services for underserved communities. The former president of PayPal, David Marcus, leads the project of Libra at Facebook. However, PayPal stated that its firm still backed the aspirations of Libra, and in the future, it will make a partnership with Facebook.
Libra Association's head of policy and communications, Dante Disparte, expressed that they know the change is difficult, and every organization that initiates this type of journey will must need to make its own risk assessment and see the rewards linked to change the Libra promises. After the announcement of cryptocurrency in June, Libra faced massive criticism. The involvement of Facebook in the digital currency caught the attention of worldwide regulators, senior congressional, finance committee members, industry insiders, and former lawmakers who asked the motives of Facebook.
Jerome Powell, the Federal Reserve Chairman, said a few months back that Libra of Facebook raised concerns about consumer protection, money laundering, financial stability, and user privacy; therefore, the Fed established a working group to observe it. In June, Chairwoman of the House Financial Services Committee, Rep. Maxine Waters, D-Calif, tell an international news website that it is essential for them to stop at the moment what they are doing that we tackle it as well as Congress would take an aggressive move to deal with it.
Facebook to mitigate Lawmakers' concerns
The social media giant tried to lessen the fears of lawmakers about Libra by guaranteeing them that Facebook would not have autonomous control of its cryptocurrency. At present, there are twenty-eight corporate partners of the Libra Association, including Facebook, and they supposed to back govern Libra. According to the initial announcement of Facebook about the project, all founding members must have to invest a minimum of ten million U.S. dollars to fund association's operating cost and started an incentive program to deal with adoption, whereas those investments had not made yet.
The public defection of PayPal could show the alliance is initiating to become a dispute. The Wall Street Journal reported on Wednesday that Mastercard, Visa, and other signed financial partners reviewing involvement proceeding a reaction from officials of government. On Friday, the House Financial Services Committee member Rep. Sylvia Garcia, D-Tex. said reporters on a call that the decision of PayPal to withdraw, a clear sign that something gets wrong. Furthermore, Garcia said that she previously had fears about the association members, since Facebook appeared to select its founding members. She added, if she is giving the invitation, then we will take it as controlling the whole agenda.
On Friday, Facebook reported that the House Financial Services Committee's lawmakers are now in the hunt for bringing executives of Facebook back to Capitol Hill to testify on Libra. Moreover, two sources aware of the situation told that the committee has under talks with Facebook to bring COO Sheryl Sandberg as a witness this month, whereas the hearing might be dependent on the agreement of Mark Zuckerberg to appear before the committee.
Read Also: Libra Association Members Preparing to meet this Month