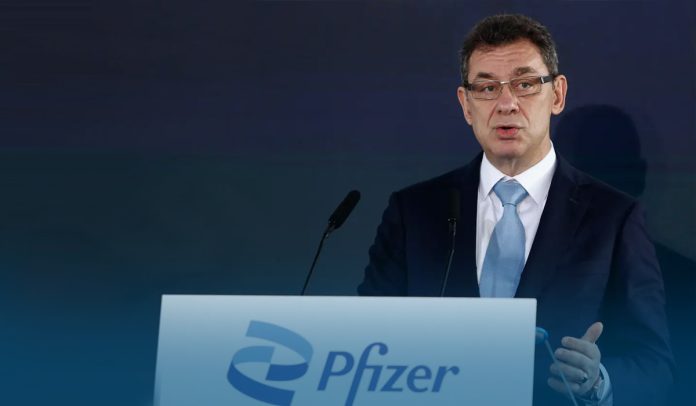 On Sunday, Albert Bourla, Chief Executive Officer of Pfizer, believes that in order to ward off another infectious wave of fatal COVID-19, people will need a 4th shot of vaccine. That is because several contagious variants of SARS-CoV-2 are emerging, and highly transmissible Omicron was the first one that was able to escape the immunity that they're providing, according to Bourla.
Albert Bourla told 'Face The Nation' that the protection we're gaining from the 3rd shot is sufficient, actually quite good against hospital admissions and unfortunate fatalities. However, he added that the defense after three shots of the COVID-19 vaccine isn't that effective against virus infections and does not continue very long when confronted with Omicron-like highly contagious variant.
A fourth dose or second booster against #COVID19 is likely to be needed since the protection offered by the current vaccine formulation doesn't last as long as a new version will says @AlbertBourla $PFE https://t.co/vyNcOtYh4m

— Margaret Brennan (@margbrennan) March 13, 2022
In addition, Pfizer's CEO said that it's essential, the 4th shot for right now. At present, anybody ages twelve and above who received a 2nd shot of Pfizer vaccine at least 21-weeks before could receive a third one.
Furthermore, the U.S. CDC said anybody eighteen-year-olds and above who received the 2-dose Moderna jab should receive additional dose 6-months after the 2nd shot. Anyone who received the one-dose Janssen/Johnson & Johnson jab should receive a booster dose after around 2 months, according to the federal health agency.
The Centers for Disease Control and Prevention said that some severely or moderately immunosuppressed individuals who have had three shots of Moderna or Pfizer vaccines could already get a fourth COVID-19 vaccine injection. But it isn't apparent if or when the US FDA (Food and Drug Administration) might approve a 4th dose for healthy adults and teens.
Children Below 5 Soon Be Able to Get Immunized
The Chief Executive of Pfizer Inc told CBS' 'Face The Nation' that they're just providing that information to the U.S. Food and Drug Administration, and then they'd see what the experts and professionals also would say outside the US pharmaceutical giant.
At present, 5-11-year-olds are eligible for two pediatric shots of Pfizer's coronavirus jab but aren't still booster-eligible. The Drug Company is testing the 3rd shot in that age bracket now. Also, children below five aren't still COVID-vaccine-eligible, though that could alter this Spring, according to Bourla.
Preliminary trial data in 2-5-year-olds showed two shots of a lower, child-sized jab did not provide the anticipated immune protection in the children ages 2-5, though it did for 6-months-2-year-olds. Therefore, the pharmaceutical firm decided to add a 3rd child-sized shot for kids below five in its continuing trial.
Albert Bourla also said Sunday that his company should have statistics on its 3-shot jab trial for 6-months-5-year-olds. Then, if the U.S. FDA approves and the U.S. CDC recommends, coronavirus vaccines for the above-specified age group might begin in May 2022.
Ex-US President Barack Obama Tested Coronavirus-Positive
Barack Obama, the former American President, said he'd tested COVID-positive and was, fortunately, feeling fine other than a sore throat.
I just tested positive for COVID. I've had a scratchy throat for a couple days, but am feeling fine otherwise. Michelle and I are grateful to be vaccinated and boosted, and she has tested negative.

It's a reminder to get vaccinated if you haven't already, even as cases go down.

— Barack Obama (@BarackObama) March 13, 2022
Mr. Obama said in a Facebook post that he and his wife Michelle are to be inoculated plus boosted. It is a powerful reminder that, even as infections go down, we should get immunized and boosted if we've not already to help avoid more severe symptoms and give fatal disease to others.