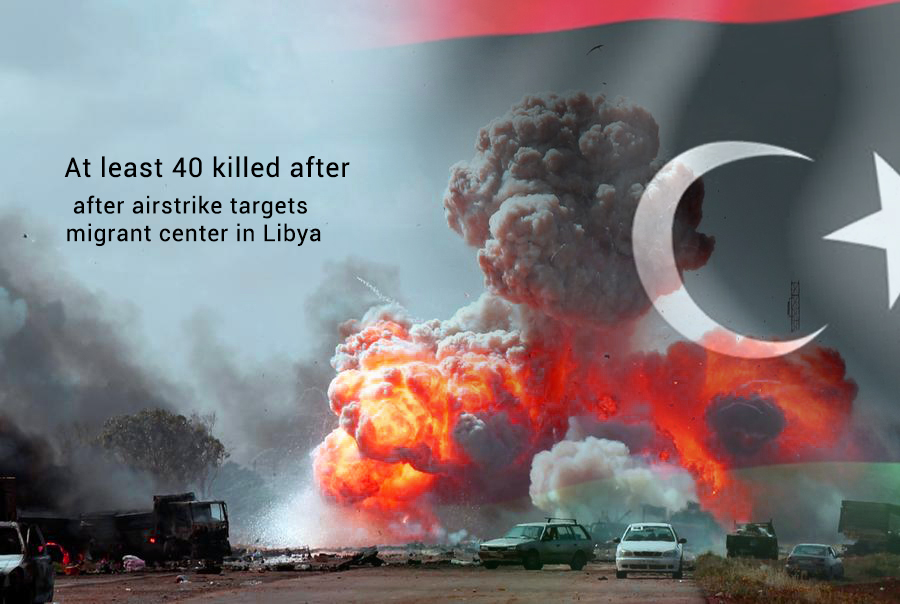 The Health Ministry's emergency service Field Support and Medicine Center reported that about forty people killed and eighty injured due to an airstrike hitting a migrant center located at the east of the capital of Libya, Tripoli.
Rescue teams and emergency workers recover the dead bodies and wounded persons after the airstrike killing about 40 innocent migrants. The ground images reflect lots of rubble left where the buildings present, whereas emergency teams worked together to move the wounded and the dead to the nearby hospitals.
The United Nations Refugee Agency twitted on its official page that exceptionally concerned of the news about the airstrikes that targets the migrant Tajoura detention center.
The UN-recognized GNA (Government of National Accord) in Tripoli condemned the dreadful act of crime and blamed the opposition leader LNA (Libyan National Army), responsible for killing Tripoli at present. Moreover, there is not any type of independent confirmation currently who is accountable for the air strikes.
The GNA stated about the attack that the criminal airstrike on the center was intentional and consider as a war crime. According to the statement, they request the international community through the European Union, the African Union, and other organizations to take a clear and strong stance contrary to the continuous violations.
Different world news agencies approached LNA for the airstrike details, but it gives no response. The organizations of human rights expressed that they are focusing both sides, possibly committing the war crimes that include the indiscriminate attacks on the residential places along with the migrant detention centers.
North Africa and Deputy Middle East Director, Magdalena Mughrabi said in an statement at Amnesty International that the drastic effect of the battle for Tripoli is even transparent from the space and the imagery of satellite displaying large city swathes now cloaked in the darkness.
The UN Security Council voted to enforce an arms embargo counter to Libya up to June 2020. Furthermore, it added that at present, no military solution seemed for the current conflict. However, the Amnesty International said that the embargo not accurately enforced and accused Jordan, the UAE, and Turkey of disobeying the ban.