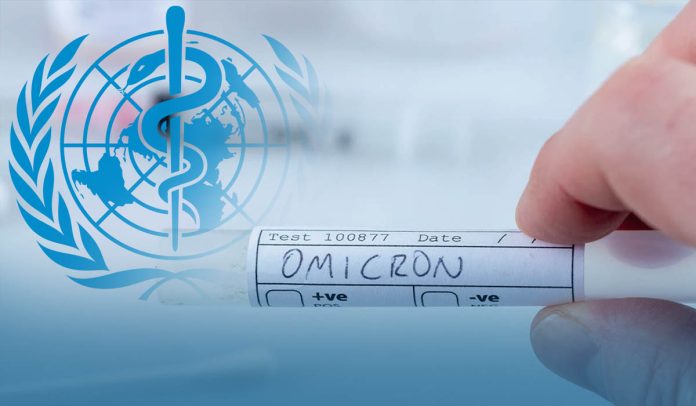 On Friday, an advisory committee of the World Health Organization (WHO) classified a worrying new coronavirus variant first identified in South Africa on Nov. 24 as a highly infectious variant to be "of concern" and named it "Omicron."
The WHO also said that initial evidence on the new variant, until now known in the technical term B.1.1.529, proposes an increased risk of reinfection compared to other more virulent transformations, indicating that those who contracted COVID and recovered could be more subject to catching it another time with Omicron. The UN health agency suggested that the new variant could pose a more significant threat than the Delta variant – first identified in India and has been causing ravages all over the world.
The WHO declaration marks the first time in months that it has classified a coronavirus variant as the highly-contagious variant of concern. Moreover, the classification applies to Delta, which has become the world's most widespread variant. It comes due to a surge in cases of Delta in Europe particularly, and at a time when several nations had relaxed lock-down measures and travel restrictions.
Furthermore, health authorities are thoroughly monitoring to see if present tools for testing, treatment, and inoculation are affected by the new variant. But the outside experts said current PCR-tests continue to spot it.
The Technical Advisory Group on SARS-CoV-2 Virus Evolution met today to review what is known about the #COVID19 variant B.1.1.529.
They advised WHO that it should be designated a Variant of Concern.
WHO has named it Omicron, in line with naming protocols https://t.co/bSbVas9yds pic.twitter.com/Gev1zIt1Ek

— World Health Organization (WHO) (@WHO) November 26, 2021
The outcomes from the 25-member technical advisory panel on the evolution of coronavirus disease, following a special session after the Omicron variant cropped up in past weeks, mark the most powerful global scrutiny of the variant to make known by scientists in South Africa. They stated it was behind a recent spike in the most populous province of the country.
"Not the doomsday"
Also, the medical officials are uncertain where the new variant actually arose, but it has now been identified in visitors from southern Africa to Botswana, Israel, Belgium, and Hong Kong.
The World Health Organization said it would take some weeks to know the impact of Omicron, as scientists worked to govern how contagious it was. A top Britain official cautioned that COVID-19 jabs would definitely be less effective against Omicron. However, a Professor of Structural Biology at the University of Oxford, James Naismith, said that it's bad news, but it isn't doomsday,
Naismith added a large number of mutations in the new variant proposed that it might spread rapidly, but transmissibility isn't just as easy to comprehend; this amino acid does that and is determined by how transformations work together.
On Friday, a member of the Scientific Pandemic Influenza Modelling group of SAGE, Dr. Michael J. Tildesley, told the BBC on Friday that nearly 24 percent of the South African population is fully inoculated, which could spur a quick spread of infections there.
In the meantime, Dr. Anthony Fauci, the leading US infectious disease expert, said that while the reports on Omicron drew attention, it was likely that jabs might still work effectively to avoid severe illness. Fauci told CNN that until it is accurately tested, they do not realize whether or not it dodges antibodies that protect people against the lethal virus.
Britain Bans Flights from Six African Nations
Sajid Javed, the United Kingdom's Minister of Health, said flights to the U.K. from Namibia, Botswana, Zimbabwe, South Africa, Lesotho, and Eswatini would be suspended from mid-day Nov. 25, and all 6 nations would be added to the "red list," meaning British residents and Irish nationals arriving home from those spots of departure must undergo a ten-day hotel quarantining at their own payment.