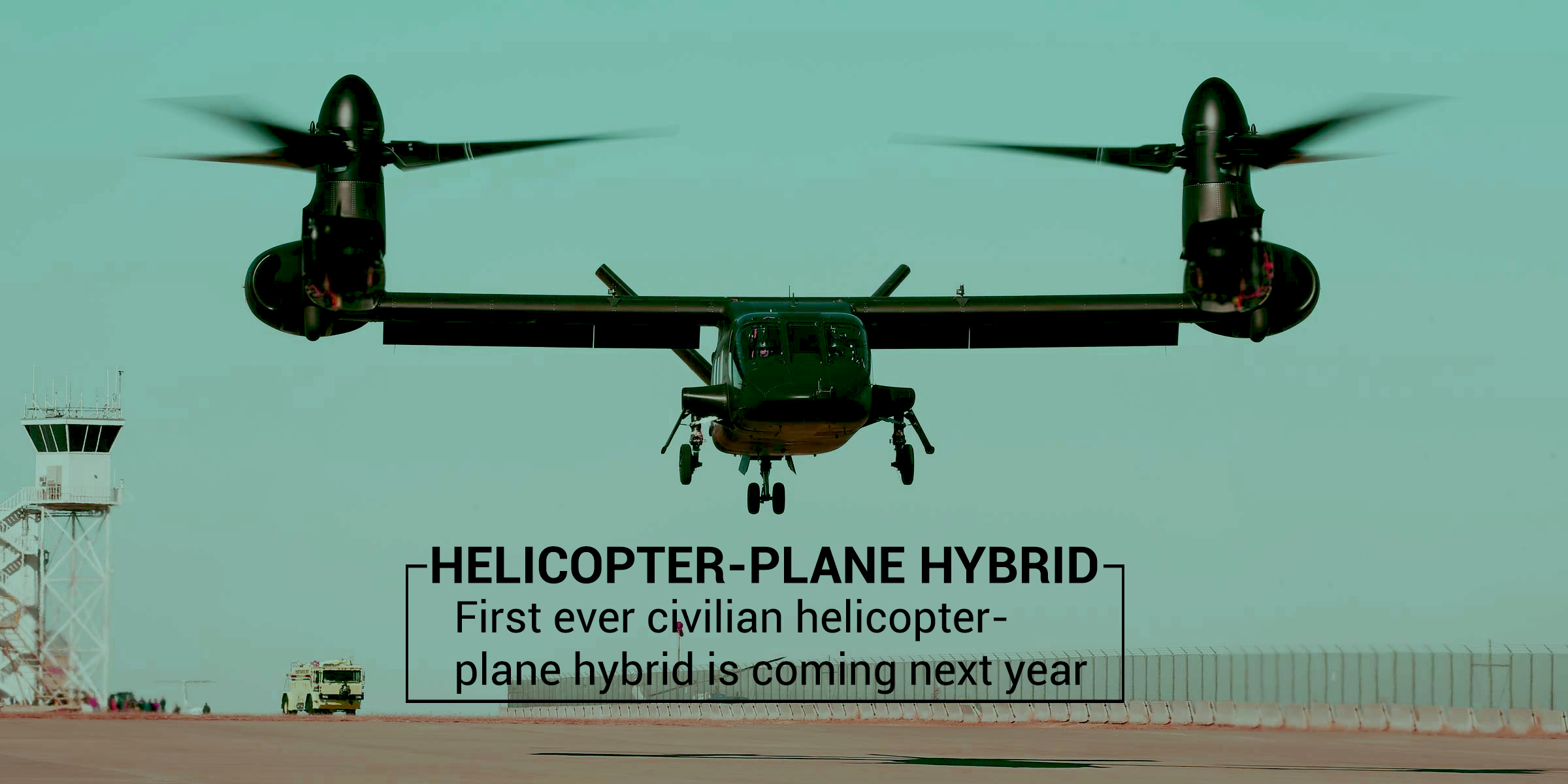 First World's Civilian helicopter-plane hybrid called tilt-rotor aircraft is coming in the next year. These aircraft specified for fly speedy and farther like the airplanes. However, these hybrid are already in the use of the military for many years. Now, for the first time in the year 2020, this model approved for the civilian use for the purposes like search and rescue operation, executive travel and for emergency medevac flights. Ex-New York Mayor and Billionaire Michael Bloomberg expressed that he also needed one. A celebrity like Bloomberg may board a helicopter-plane hybrid around his home and fly at speeds more than 300 mph to attend a meeting thousand miles away. Just after only three hours, he can land at the meeting location on a helipad.
Is there any Runway or Airport Needed for Tilt-rotor Aircraft?
Helicopter-plane hybrid doesn't need any runway or airport to take off while it only needs a helipad instead anywhere either house roof, hospital, office or any other place. These tilt-rotors have the ability to save valuable time during the organ donation process. Such as, they can take a donor heart from any hospital helipad and rapidly fly to any other hospital either it is 1000 miles away avoiding the crowd and flights at the airport.
Tilt-rotor for Search and Rescue Operation
One of the other benefits of tilt-rotor is that it is beneficial for search and rescue operations because of its low-flying. It can easily spot people on the ground seeking for help or rescue; however, those located people must have to wait for a chopper to transfer them to a secure place. It is helpful to save time and lives with the help of its ability to fly long distance search grids and afterward hoisting and hovering people up from the ground.
Aerospace giant Leonardo of Italy built the first civilian tilt-rotor aircraft of the world in the United States. According to the officials of the company, they will start developing the world's first AW609 model during this week at its factory in Philadelphia. By the end of this year, the AW609 will get the certification of Federal Aviation Administration if every and start its service in 2020 if everything goes on plan. The managing director of Leonardo Helicopters, Gian Piero Cutillo said that from the technology point of view the 609 represents a breakthrough.
Sitting Capacity of Helicopter-plane Hybrid
Rather than two crew seats, nine other passengers can take flight at the same time. On every wing's end, there are turboprop propeller engines and each engine can swivel up or down depending on the weather. The aircraft is landing, taking off, hovering or cruising across the sky.
Price Tag
It is an expectation that the price tag of the AW609 is very high around &25 million and it is over twice than the cost of a usual helicopter. This price can afford only Cadillac customers, and UAE placed a tentative order of three AW609s for the purpose of search and rescue. But the first customer will be from the United States Texas-based Era Group that can likely to receive two AW609s in 2020. In addition, another customer may belong to Japan as Nakanihon Air Service settled to study the market for the use of AW609 for disaster emergency response, news coverage and aeromedical services.