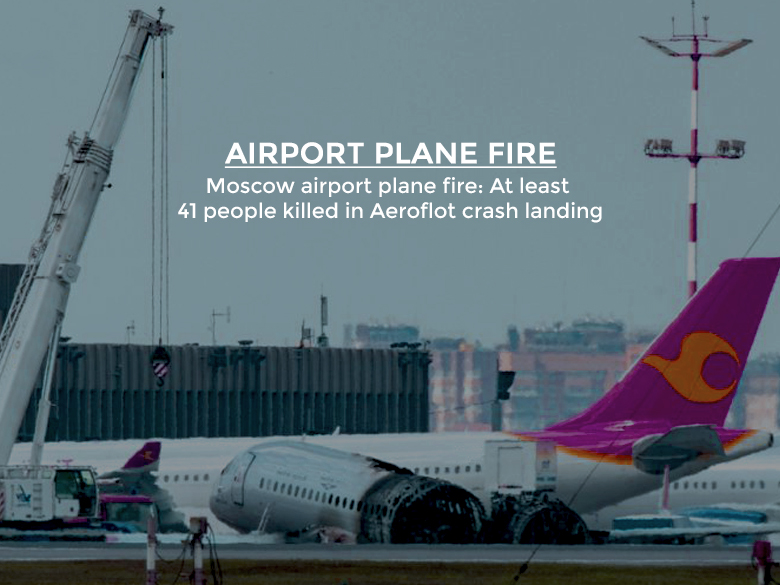 On Monday a regrettable incident happens at Moscow airport when a Russian passenger jet got the crash landing with flames. Due to the crash landing and fire on aircraft, there were about forty-one people killed that were on board. Flight SU 1492 of Aeroflot slipped down the runway at Sheremetyevo airport of Moscow, the rear section of the plane ablaze and spilling thick, black smoke.
After the airplane comes into the steady state, passengers escaped from the jet using the emergency slides from the two forward doors of planes and save their lives from the burning plane. According to the initial reports, the Russian plane was flying from Moscow to the Russian city Murmansk, when it forced to turn back after an emergency on board.
The report from the news agency of Russia 'Interfax' revealed that due to the loss of communication because of a lightning strike and it led to the decision to move back towards Sheremetyevo. While on the other hand, officially no main reason announced for the tragedy. Flight tracker Flightrader24 data demonstrates that the passenger jet took off after 06:00 p.m. local time and was in the air for only 30 minutes before creating a loop in the north of Moscow and directing back to the airport.
Horrible Video of the Jet Crash Landing
The video that shared on many forums including social media revealed that the jet reached the runway at speed before it hit the ground due to which it cause it to take off back in the air earlier hitting the ground again and bursting into flames.
Causalities and Survivals in the Disaster
There was a total of 78 people on board including the five crew members. Russian Investigative Committee spokeswoman, Elena Markovskaya said that forty-one people killed during the incident and fortunately thirty-seven people survived and among those five people receiving the medical treatment in the hospital. Interfax reported that a citizen of America also killed in the plane crash.
The incomplete list of 33 survivors of the crash including five injured passengers published from the Russian airline Aeroflot. In different statements on the official website of the airline, they claimed that the plane evacuated in 55 seconds. The officials of the airline stated that the crew members did their best to save all the passengers lives and give them emergency assistance. Moreover, they added that the captain was the last person to leave the burning aircraft. They offered their sympathies to the victims, passengers and their families.