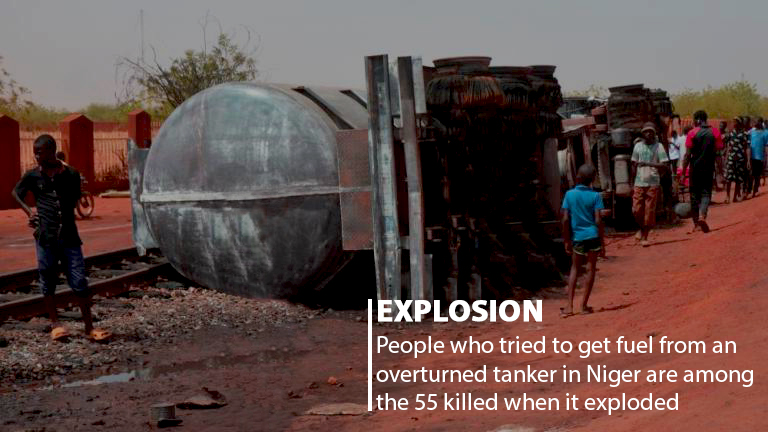 At least fifty-five people killed in Niger after an explosion of an oil tanker when people are trying to get the spilled fuel when the oil tanker overturned. The blast occurred late night Sunday across the road leading to the Niamey airport, the West African country's capital. On the other side, 37 people also got injuries due to the explosion. Interior Minister Mohammed Bazoum gives the figures of death and injured on his official Twitter account.
A student of the college stated Agence France-Presse that it was before the midnight time when he goes outside, and he saw that the truck overturned. The crowd came from here and there to collect the gas, after some moment he saw fire on the truck sides, and then suddenly everything burst into flames.
Along with President Issoufou, Bozoum visited the accident site and posted the full tragedy details in French on his official account on Twitter. He tweeted that on 6th May morning with the #PM he visited the tragedy site at the Airport district following the overturning of an oil tanker not far-off from a gas station. Although some people were trying to collect the gasoline at that time the truck exploded.
Read Also:
Nigerian man Survives after 60 Hours under Sea due to Air Pocket
The President of the state also visited some injured persons in a hospital and declared the incident as a national tragedy. He said that he would like to extend his most heartfelt sympathies to the bereaved families. He prayed that may the departed souls rest in peace and he prays for the wounded to have the speedy recovery. Many injured persons suffered severe burns, and it is an expectation that the death toll may rise.
Accidents of oil tankers are common in nearby Nigeria, the major oil producer. On October 2018, twenty cars and four commercial motorcycles burned after an oil tanker spilled petrol on a busy road.