Israeli Jets continued to pound Gaza on Tuesday (May 18), and a rocket attack into Israel resumed after a brief pause, as Palestinian demonstrators hit the streets in cities across the West Bank and elsewhere.
Thousands of people gathered in various cities in the West Bank, including Hebron and Ramallah, on May 18, after a number of Palestinian groups, including Fatah in the West Bank and Hamas's militants in Gaza, called for mass strikes.
On Tuesday, a member of the Palestine Liberation Organization's Executive Committee in Ramallah, Wasel Abu Yousef, told CNN that the top priority for the Palestinian political leadership now is to have Israel stop its massacres and crimes against their people in Gaza.
Israeli state imposed a partial closure on the West Bank, an Israeli security source told Cable News Network, with only male adults older than 45 and Palestinian construction workers with work permits permitted to enter Israel.
Israeli air raids sustained through the night into Tuesday. The Israel Defense Forces (IDF) said warplanes had struck nine rocket launch sites in Gaza on May 18 in addition to targeting a tunnel system in northern Gaza, several residences of Hamas commanders, and an anti-tank squad in Gaza City.
The Hamas-run Gaza Health Ministry said 217 people, including sixty-three children, had been killed and around 1500 others injured in the current round of violence. According to the U.N. Office for the Coordination of Humanitarian Affairs, over fifty-eight thousand people are considered internally displaced, many of them finding housing in dozens of schools.
Since the conflicts began last week, the Israeli state briefly allowed trucks carrying international aid into Gaza, but Israeli authorities stopped the entrance of aid trucks responding to mortar fire at two border crossings.
Israel's raids on Islamic Jihad
Moreover, Monday night and early Tuesday morning had brought a brief pause in southern Israel from militants' rocket fires. The Israeli Defense Forces didn't report any cautionary sirens overnight; the first time in seven days, Israel went a night without rocket attack from Gaza.
The attacks resumed later Tuesday, with one mortar killing two civilians at an agricultural packaging factory on the Israeli side of the Gaza border, bringing the death toll in Israel to 12 since violence erupted. Warning sirens also sounded again on May 18 in Ashkelon and other towns, sending inhabitants fleeing again into shelters.
And now into its second week, this is the deadliest Israeli-Palestinian conflict since the two sides fought a war in 2014. Speaking on Tuesday following a visit to the Israeli Air Force Base at Hatzerim, Israeli PM Netanyahu said operations would continue as necessary to restore peace to the Israeli citizens.
Mr. Netanyahu said he does not doubt that they took them back many years while referring to Israel's raids on Hamas and Islamic Jihad.
He added he is sure all their enemies around see what price they're charging for the aggression against them, and he is confident they'll learn the lesson too.
Israeli forces destroyed a structure housing Offices for international news outlets The Associated Press and Al Jazeera
The IDF destroyed an office building around dawn near Gaza. Witnesses said that an advance caution was given that the tower would be targeted, and there were no reports of casualties. Israel hasn't commented on the event.
The destroyed building was among several pieces of infrastructure used by civilians that the Israeli Defense Forces have targeted. Israel has frequently accused Hamas of deliberately operating near buildings like schools and hospitals, thereby endangering civilians who risk becoming human shields.
Over the weekend, Israeli forces destroyed a structure housing Offices for international news outlets The Associated Press and Al Jazeera, claiming it contained Hamas military intelligence assets. Hamas has denied that allegation.
Several Israeli jets bombed over 14 km (nine miles) of Hamas' tunnel system in Gaza Sunday night into early Monday morning. They targeted fourteen residences Monday that the Israeli military said belonged to commanders from the Palestinian militant group.
Moreover, Hamas authorities and video from the ground showed a health clinic in Gaza City damaged by an Israeli air raid on a nearby target; its windows were blown out. The Health Ministry in Gaza said the clinic was one of its main COVID-19 testing centers.
Earlier, the Health Ministry cautioned the destruction of medical facilities could lead to coronavirus cases surge because those fleeing to shelters would be exposed to the spread of infectious diseases, especially the danger of coronavirus spread.
A spokesperson for the Israeli Defense Forces told CNN Tuesday that it targeted the primary operations center of the Hamas internal security forces in the Rimal neighborhood and that the building was near the clinic.
As Israeli Forces sustained to trade air raids with rockets fired from Gaza on Tuesday (May 18), protests took place in many cities.
'preposterous and false'
President of ​the Palestinian National Initiative, Dr. Mustafa Barghouti, who attended the demonstration, said that thousands of people raised the Palestinian flag and chanted in support of Gaza at a demonstration in the West Bank city Ramallah. Some of the demonstrators burned tires, and there were some clashes with Israeli forces near a checkpoint.
Many women and children also took part in a protest in Al-Bireh. Some demonstrators were heard chanting, 'one hand is planting collaborators, another hand is planting freedom, cover the martyrs with flags, no peace, and no surrender.'
At another demonstration in east Jerusalem, co-founder of Right to Movement Palestine, George Zeidan, complained about the restrictions 'on our movement as we're crossing and going between family, going to work, going for a run, going to school, going for a party.' He added whatever they're doing, they're always faced with oppression by Israel's army.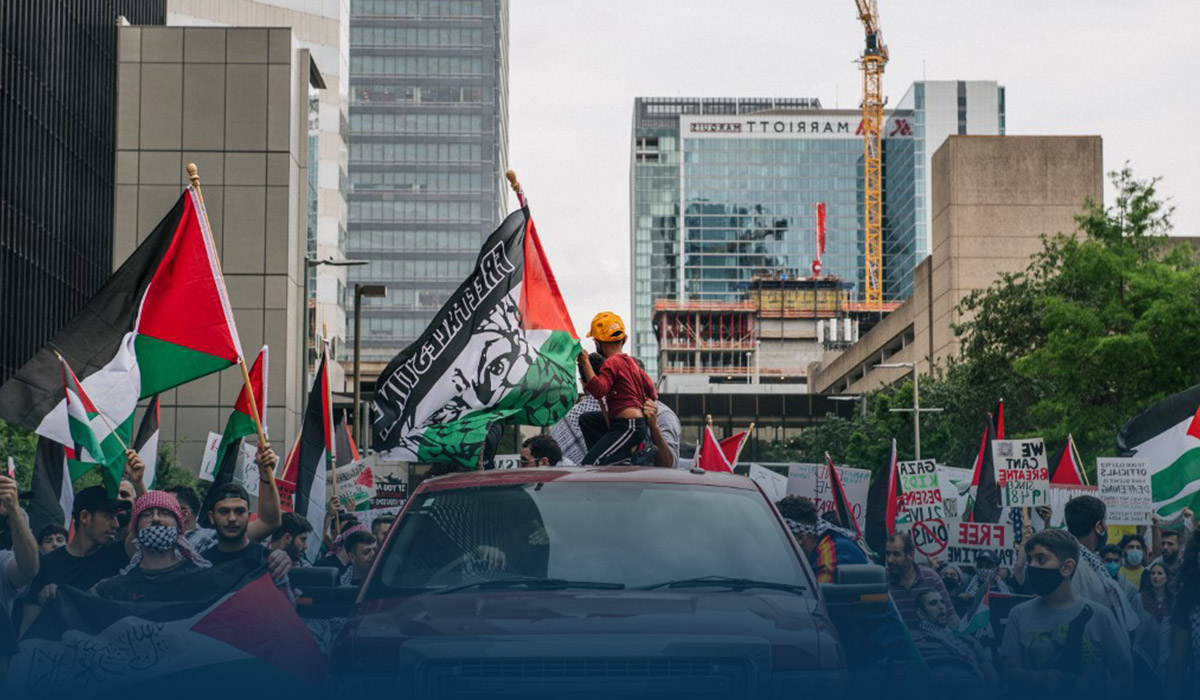 A protestor, Tawfeek Haddad, told Cable News Network that just like in apartheid South Africa, this has to end. Palestinians won't be second-class residents or kicked out of their place. Previously Israel's administration has rejected that comparison. In April, the country's Foreign Affairs Ministry described a report by Human Rights Watch as 'preposterous and false' after it accused the Israeli administration of committing crimes of apartheid.
According to health authorities in the West Bank and the IDF, a twenty-five-year-old Palestinian was killed, and two Israeli soldiers were injured in an altercation in Ramallah.
The Israeli Forces said it responded to incoming live rounds at its position, which resulted in two soldiers getting injured in the legs.
Read Also: People across America joined pro-Palestinian demonstrations over the weekend