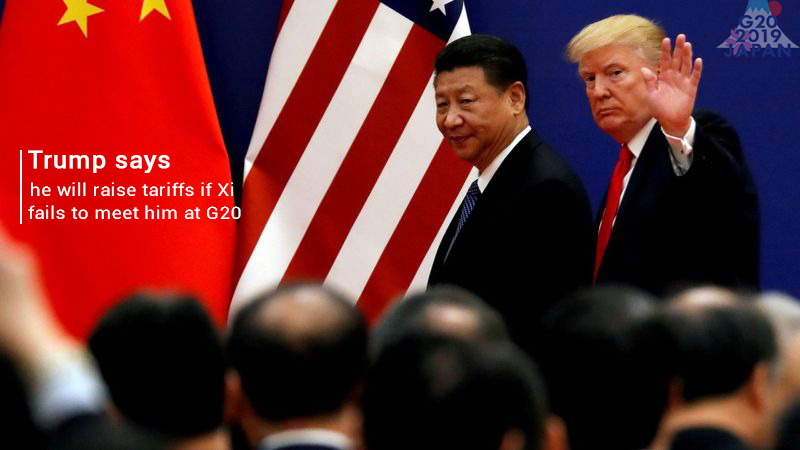 The president of the United States Trump Threatened China to impose further tariffs on another Chinese export having worth of $300 billion if the Chinese president Xi Jinping doesn't do a meeting with him at G20 in Japan.
However, there isn't any new circulating that Xi wants to avoid to meet with Trump at the world leaders' summit in Osaka on June 28 and 29. It is an expectation that the leaders of the two largest world economies meet there to discuss the ongoing trade war between them.
Donald Trump said that he thinks he will go and thinks to have a scheduled meeting and he has a strong mind to attend it. Furthermore, he said that if the Chinese president didn't go to the summit, it would surprise him whereas he didn't hear that Xi doesn't want to go there. On the other side, he also said that with all the expectations of the meeting if it doesn't happen, that is fine and if they do that is also fine.
While on a question about the Xi failure to meet him at world leaders' summit that will lead to the implementation of tariffs on $300 billion of Chinese products to the U.S., the U.S. president replied with yes.
Spokesperson of Foreign Minister of China, Geng Shuang said on Tuesday that China noted the current remarks of the United States on its expectations of a meeting between both nations' leaders. Moreover, he also said that the attitude of China on the trade war is clear and transparent: China is not in favor of trade war, but they are not afraid to fight it.
If the United States agrees to negotiate based on equality, their door is always open for that negotiations, he added. On the other hand, if the U.S. insists on increasing trade frictions, they will react firmly and keep it to the end.