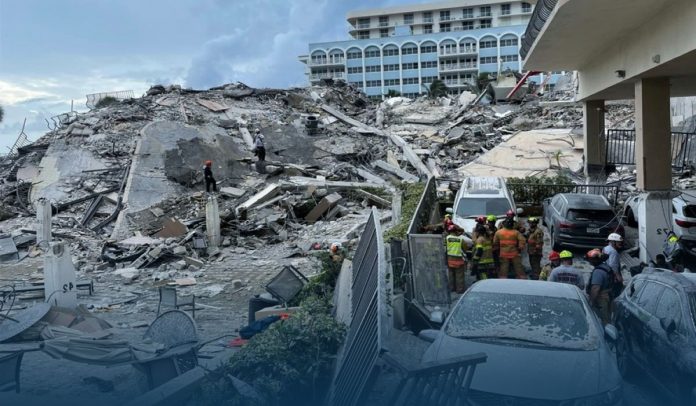 Search and Rescue (SAR) teams recovered two additional bodies from steel and concrete rubble of a partially collapsed 12-story oceanfront building in Surfside, Florida, on Monday, bringing the present death toll to eleven.
On Monday, Daniella Levine Cava, Mayor of Miami-Dade County, nearly 150 people still listed missing four days after the tragedy. However, Miami-Dade County Mayor also warned that these figures are very fluid and possible to change. Moreover, on Sunday, four victims were taken out of the Champlain South debris.
NEW COLLAPSE EVIDENCE: As rescuers enter their sixth day of searching for survivors at the Florida condo collapse site, we're learning more about the building's condition before it came down. ABC's Faith Abubey reports from Surfside. pic.twitter.com/BauNu16gJH

— ABC World News Now (@abcWNN) June 29, 2021
A part of the 12-story building containing nearly fifty-five apartments collapsed last Thursday.
On Monday, referring to the family members and friends of the missing, Daniella Levine Cava told a news briefing that they have people continuously waiting. That is painful.
The mayor also said that they're coping with the update that they might not have loved ones come out alive and still hoping they would.
Furthermore, Levine Cava announced the latest body count in a media briefing near the collapse scene. Rescue authorities said the body was pulled as SAR crews removed debris in a delayering process to search for possible survivors.
Rescue Process Is Dangerous
Including experts from Mexico and Israel, rescue crews were using dogs, cranes, and infrared scanners to identify signs of life in the remains of the building. When asked about the slow searching process, the assistant fire chief of operations for Miami-Dade Fire Rescue, Ray Jadallah, said searching the rubble isn't a simple matter of moving huge slabs of material but of going through solid concrete.
Moreover, she said most of the searching is performed by hand.
Jadallah said the rescue process is dangerous, saying a SAR worker on Sunday fell seven meters down into an opening in the debris. SAR crews have now been on the scene for over four consecutive days.
Levine Cava said the speed of the search and rescue process is the crucial question she listens from families and friends of the missing. She added that loved ones and family members had been taken to the collapse scene to watch the entire process. SAR workers continued to make use of sonars and rescue dogs to find possible survivors.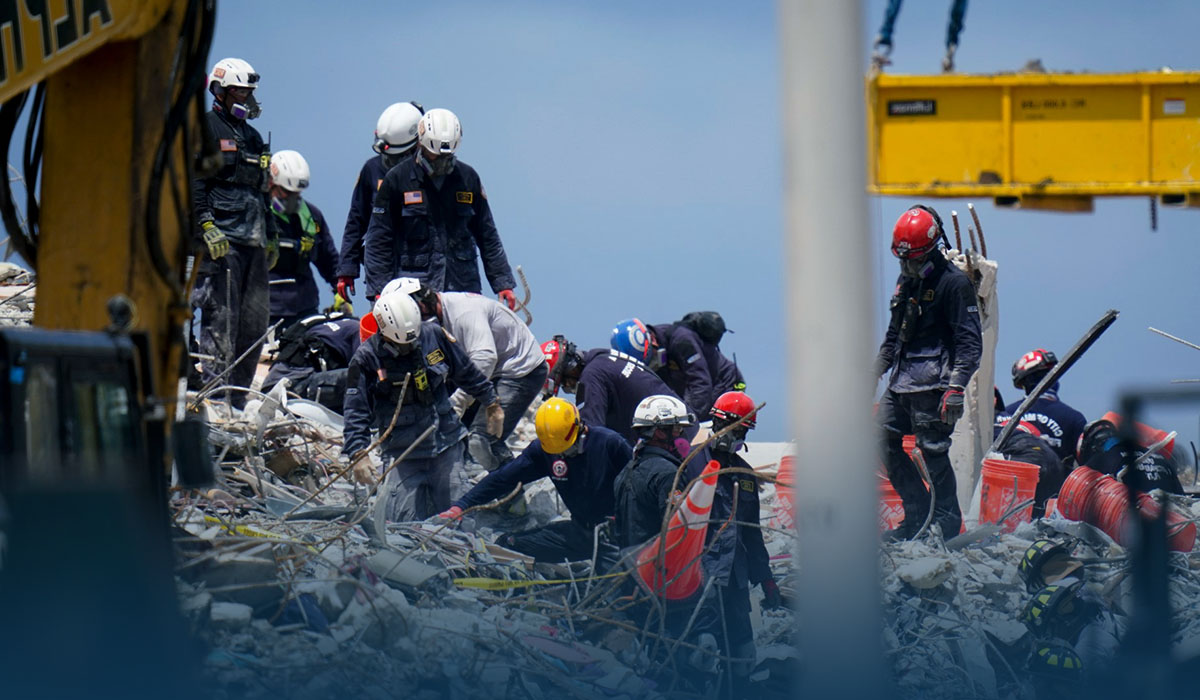 Jadallah said that search workers had heard some sounds like scratching or tapping that could likely be made by a survivor, although he recognized they could also be created by shifting metal.
Published reports have signified that there had been threats concerning the structural integrity of the building long before the downfall. All state, local, and federal authorities at the news briefing pledged a thorough inquiry into the grounds of the structural failure.