The Republican Party is at the point of taking the power of the House of Representatives after a flurry of contests was called for them on November 14. GOPs have anticipated an overwhelming triumph in the House amid the rise in inflation and disappointment with President Joe Biden's occupation. Instead, there was unexpectedly strong support for the incumbent party, who has controlled the lower chamber of Congress since 2019.
President Biden party's slim hopes to retain the majority in the US House were just about extinguished on November 14, with five contests called for GOPs late Monday. At the time, fourteen seats in the House of Representatives remained uncalled, with 217 seats predicted for GOPs and 204 seats for incumbents. So Biden's party would've to win all of them to retain the House control – now looking unthinkable.
According to media reports, about a week after Election Day, three contest calls in New York and California pushed the members of the Grand Old Party to 217 seats, one away from the 218 required to grab the majority in the chamber.
On the evening of Nov. 14, Rep. Kenneth Stanton Calvert, serving California's 42nd District, and Rep. Michelle Eunjoo Steel, serving California's 48th district since 2021, both retained their seats in California after a close fight against their Democratic opponents. And in New York, the GOPs held on continued for the District that supported Democrats in the recent two US Presidential elections. There remain fourteen contests that are still to be called, most of them in California.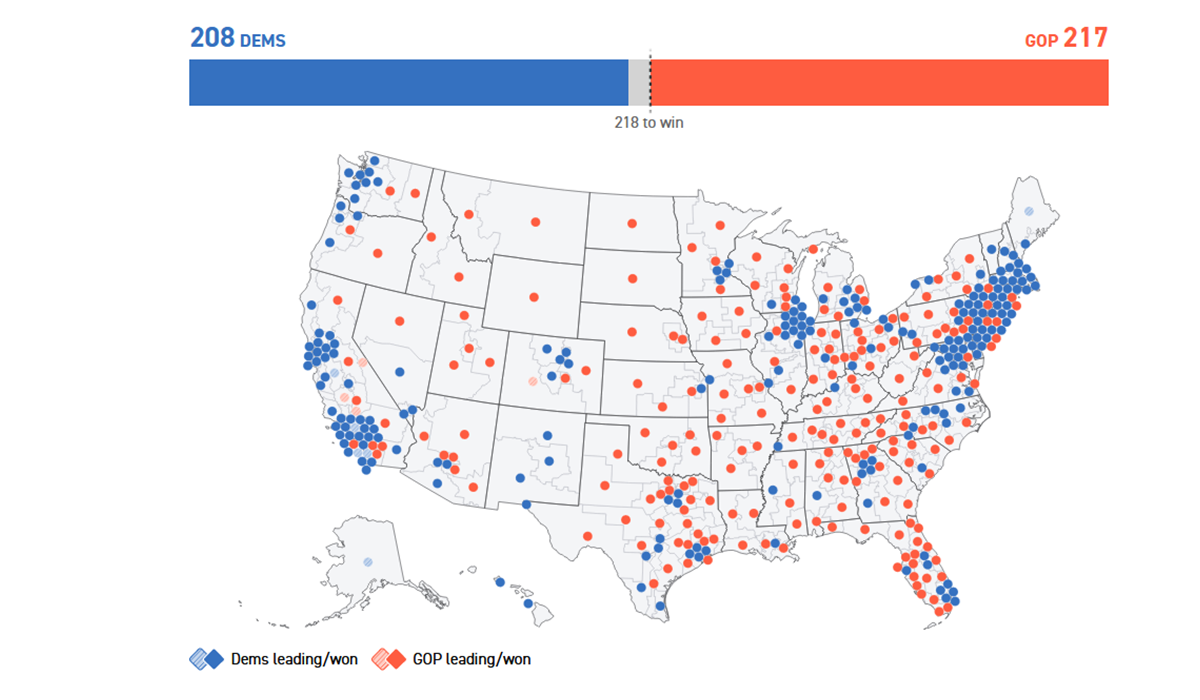 Ex-President Trump Announces White House Bid For 2024 Elections
House GOPs held a confidential meeting on Monday night as the battle for Speaker started. Kevin McCarthy, Minority Leader of the U.S. House, is considering locking in support for the role but is set to face criticism from the right of Republicans. According to multiple reliable sources, the US House Minority Leader won the GOP nomination for the Speaker, defeating Congressman Andrew Steven Biggs (R-AZ) in a 188/31 vote. However, that was a secret vote, and Kevin McCarthy only required a simple majority.
McCarthy wins the GOP nomination for speaker – 188-31.

Seven weeks to sway almost all of those 31 members to his side before Jan. 3

— Emily Wilkins (@emrwilkins) November 15, 2022
Additionally, on Tuesday night, Donald John Trump, the former American President, said that he will seek out the GOP Presidential nomination in the 60th quadrennial U.S. Presidential Election in 2024. Mr. Trump said in a gathering at his Mar-a-Lago residence in Florida that to Make America Great Again; he's declaring his candidacy for the United States President.