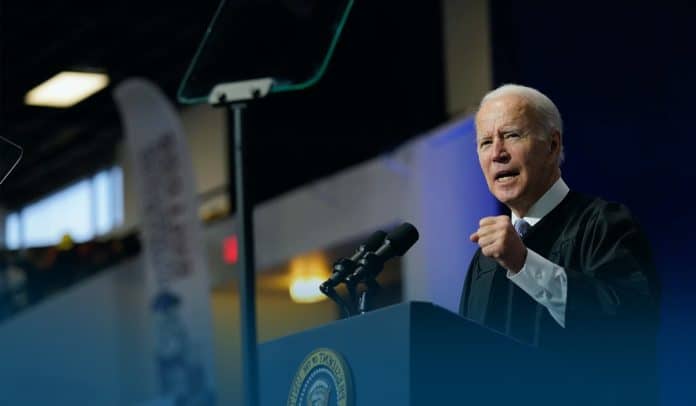 Joe Biden, the US President, has vowed to protect voting rights in America and reform law enforcement while acknowledging that his plan faces a difficult struggle due to sharp political splits in the United States Congress.
On Friday, during a commencement address at South Carolina State University, President Biden said the 'fight's not over' to address police brutality matter in the U.S., which last year saw mass demonstrations demanding racial justice. Biden, who has been in conversations with senators regarding how to seek Democratic-supported electoral reforms over the unyielding GOP opposition. He added that without the right to vote, there's no democracy.
"This battle is not over. We must pass the Freedom to Vote Act and the John Lewis Voting Rights Act. We must. We're gonna keep up the fight until we get it done." – @POTUS

— Andrew Weinstein (@Weinsteinlaw) December 17, 2021
The U.S. leader's remarks came after America in November was added to the annual list of back-sliding democracies for the first time. An intergovernmental organization, the International IDEA (Institute for Democracy and Electoral Assistance), pointed to many American states that newly passed voter registration and other laws that excessively affect communities of color to justify the United States' inclusion on the list.
Moreover, in November, a U.N. human rights expert, Fernand de Varennes, said that the new state election laws deny numerous people belonging to minority groups equal voting rights and might undermine democracy.
"Keep up the battle"
The United States Justice Department sued Texas in early last month over new state voting maps, arguing they infringe on US civil and federal voting rights laws by disenfranchising Latino, Black, and other voters of color.
A Republican, Greg Abbott, the governor of Texas, signed another legislation piece into law in Sept. 2021 that restricts voting access. Arguing the legislation would help fight voter fraud. But civil rights say SB1 is aimed at making it harder for the community of color and other Dems-leaning voters to cast votes.
Furthermore, Joe Biden spoke at the historically Black school a day after giving way that his about 2T dollars social and climate bill was not likely to become law in the remaining weeks of 2021, as he'd hoped, due to sustained disagreement among fellow party members. GOPs unanimously oppose the spending bill.
As he delivered the December commencement speech, the U.S. President lamented Republican opposition that has kept voting rights bills from proceeding in the equally split Senate following passage by the Dems-led House.
He also blamed that other team, which used to be called the GOP, for rejecting to even permitting the bills to be discussed. Mr. Biden said that fight's not over; they're going to keep up the battle until they get it done.