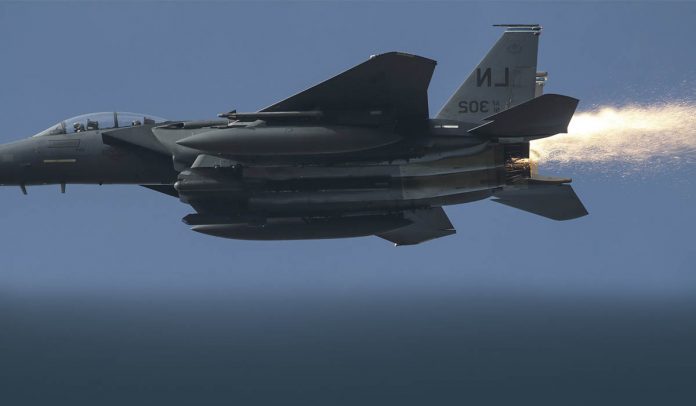 Major Grant Thompson, the pilot of the United States Air Force F-15E Strike Eagle, thanked a UK photographer by ripping his 48th Fighter Wing insignia patch from his shoulder and giving it to the photographer whose swift action ensured he landed quite safely after his F-15E's engine malfunctioned.
BBC reported that it was jet spotter Ian Simpson who called the Royal Air Force station after seeing flames sparks out of Grant Thompson's "McDonnell Douglas F-15E Strike Eagle" during take-off. The pilot stated that the photographer's quick deed had 100 percent saved his life. He added Mr. Simpson's initiative was remarkable.
Little bit of an issue on takeoff for @48FighterWing F15@ThePhotoHour #AvGeek #aviation #aviationphotography @TheAviationist pic.twitter.com/i3hahHcy09

— Matt Smart (@MattSmartie999) July 13, 2021
The plane was captured spewing sparks on takeoff from Royal Air Force Lakenheath in England earlier in July. The pilot has offered his thanks to the man spotter who alerted the Airbase to the engine malfunction.
"was a normal takeoff" – Pilot says
Ian Simpson said that he immediately called the RAF Lakenheath's switchboard and was put through to flight control system, who then alerted Maj. Grant Thompson. Simpson said that it was pretty shocking, adding, you do observe flames called an afterburner, which they use to takeoff. But that's generally turned off as soon the plane leaves the runway."
The pilot said that he'd get no inkling there was a potential issue with the plane. He said that from their perspective, that was a normal takeoff.
492nd Fighter Squadron pilot Major Grant Thompson and a British aviation enthusiast Ian Simpson met on 20th July, with Mr. Thompson personally thanking Mr. Simpson and presenting the man with several gifts in gratitude, including his Fighter wing flight patch and a trucker hat.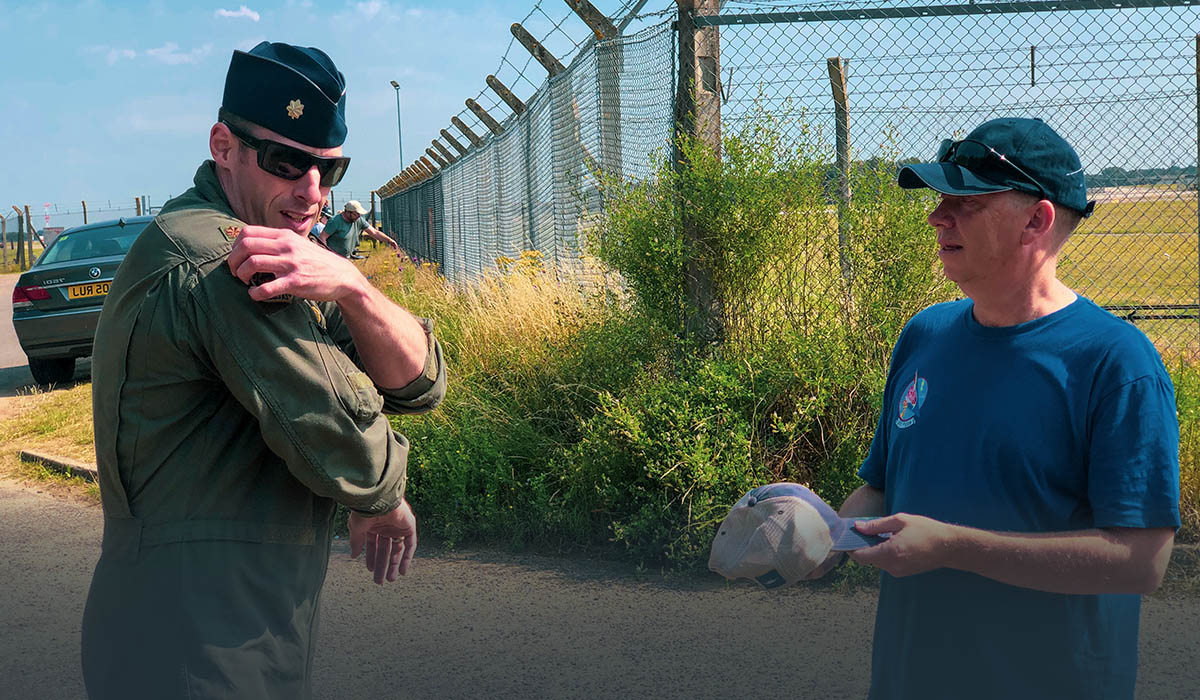 The 48th Fighter Wing (48 FW) is the only F-15 wing in American Air Forces in Europe Command, based at Royal Air Base Lakenheath, England. It consists of F-15C/D and F-15E aircraft. In 2017, Grant Thompson's Fighter Squadron won the Raytheon Trophy, awarded for an outstanding performance to an Air National Guard Fighter Unit with a mission in air superiority or air defense.