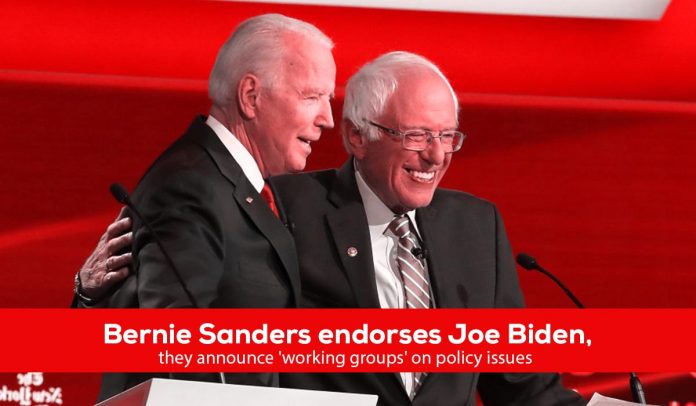 Vermont Senator Bernie Sanders endorsed former Vice President Joe Biden for the presidential nomination of Democratic party. Sanders surprisingly appeared on a campaign live stream for the announcement. Sanders requested every American, every Democratic supporter, every independent as well as many Republicans to support the candidacy which he endorses. He says that Trump is the most dangerous president in the history of the United States, and it is necessary to defeat him in the upcoming November elections.
We must come together to defeat the most dangerous president in modern history. I'm joining @JoeBiden's livestream with a special announcement. https://t.co/AC3zh3ChX3

— Bernie Sanders (@BernieSanders) April 13, 2020
The most significant endorsement and the demonstration of party unity came earlier in 2016 when experts criticize Sanders for late exit from the Democratic primary. The Senator of Vermont also faced criticism for not instantly offering an explicit endorsement of the former president after ending his own presidential campaign under a week ago to unite the party ahead of the 2020 election against Donald Trump.
The endorsement of the Vermont senator to his former opponent comes almost three months earlier than his endorsement of Hillary Clinton, the former Secretary of State in the 2016 election cycle, and far prior to the backing of former U.S. President Obama eight years before that.
Sanders is now in the fifteenth former Democratic contestant to endorse Joe Biden, joining fellow Senator Cory Booker, Senator Amy Klobuchar and Senator Kamala Harris, along with Pete Buttigieg, the former South Bend, Indiana Mayor and others in backing Biden.
Biden Thanked Sanders on his endorsement
During the live stream nomination campaign rather than in-person campaign events amid the COVID-19 outbreak, Biden expressed gratitude to Sanders and called his decision a big deal for the party. He also clowned that after the endorsement of Vermont Senator, he became the presidential nominee of the Democratic Party officially. He directly communicates Sanders by saying to him that his endorsement means a great deal to him.
Joe Biden praises Bernie Sanders: "You don't get enough credit, Bernie, for being the voice that forces us to take a hard look in the mirror and ask ourselves: 'Have we done enough?' And we haven't." https://t.co/le6FjuuuLI pic.twitter.com/X5JYRY10DR

— ABC News Politics (@ABCPolitics) April 13, 2020
The two former opponents also announce that they are working in collaboration with each other to create six working groups focusing on education, health care policy, the economy, climate change, criminal justice, and immigration during the 2020 Presidential race.
NEW: Joe Biden announces and he and Bernie Sanders agreed to establish 6 policy working groups on issues from immigration, to criminal justice reform: "We're looking forward to turning that work into positive change for the country." https://t.co/fSVgAdYi51 pic.twitter.com/KV1BdMAJnN

— ABC News Politics (@ABCPolitics) April 13, 2020

However, regardless of their agreement to work in a team on these policy areas, the senator said both candidates still have noteworthy differences in their view of health care, the policy they usually scuffled over on the discussion stage. There is no secret that Sanders and Biden have differences. Sanders said during the live stream that he hopes that these task forces will work together, using their finest minds to find out real solutions to these most significant issues.
Vermont Sen. Bernie Sanders suspended his presidential campaign
Last week, Vermont Senator ended his own democratic presidential campaign, one day after Wisconsin voted in a controversially held vote, results of which not announced yet. The last remaining Democratic nomination aside Biden. A senior source of Sanders' campaign states that there is no sense yet for whether the senator may hit the road to campaign for the former president because they do not know what physical campaigning is going to appear as the COVID-19 pandemic continues to freeze U.S. overall society.
Since the departure of Sanders from the contest, Biden and his presidential campaign put a key focus on making an effort to win over the supporters of Sanders, who are critical of moderate policy positions of Biden in contrast to the senator. Recently, Biden readopted two left-inclined policies on Medicare qualification and student debt – signifying his expanding outlook.
Can't guarantee the safety of physical vote in November – Fauci
While the endorsement of Sanders demonstrates a lift to the campaign of Biden, he still faces resistance from some of the ardent supporters of Vermont senator, whose support he possibly needs to beat Donald Trump in November.
Briahna Joy Gray, the former national press secretary of Sanders, tweeted on Monday that with the greatest respect for the Vermont Senator, an incredible person, and genuine inspiration, she didn't endorse Joe Biden.
With the utmost respect for Bernie Sanders, who is an incredible human being & a genuine inspiration, I don't endorse Joe Biden.

I supported Bernie Sanders because he backed ideas like #MedicareForAll, cancelling ALL student debt, & a wealth tax. Biden supports none of those.

— Briahna Joy Gray (@briebriejoy) April 13, 2020