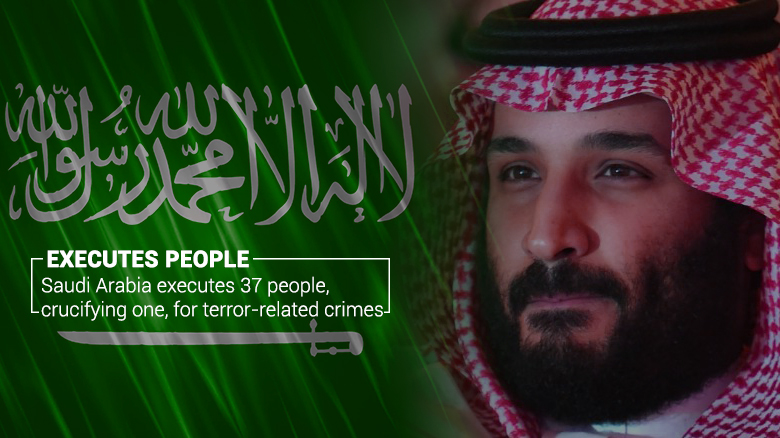 The news officials of the Kingdom of Saudi Arabia announced that 37 people assassinate in the state that finds guilty of terror-related crimes. An interior minister of the Kingdom stated to the Saudi Press Agency that one of the offenders crucified. The meaning of crucifixion in Saudi Arabia; to display someone's body after execution strung up and present as a deterrent to others. Saudi Press Agency (SPA) tweeted that they give the death penalty to those men because of their extremist terrorist ideologies and establishing terrorist cells to disrupt and corrupt the state security, also they are becoming the source to spread chaos and provoking religious strife. The statement also reveals that few of those executed charged with the assassination of security officials with explosives.
In the announcement, the names of the 37 executed Saudi nationals listed that put to death in different areas of the country. Amnesty International specified that most of the executed people have Shia sect that dismissed the legal proceedings which directed to the beliefs as sham trials. Trials that violated fair trial standards internationally relied on the declaration of guilt extracted through torture. However, the Kingdom officials repeatedly denied the torture allegations. According to Amnesty, among those executed, eleven men proved guilty of spying for Iran and about fourteen others who convicted of violent offenses for participating in an anti-government demonstration in the restive Eastern Province of the country during 2011 to 2012.
International News Agency Statement on the Executions
According to the letter that KSA sent to UN in 2017 in reply to a July 2017 United Nations Human rights office report on executions in the Kingdom, one of the men listed in the statement of the government was Haydar al-Leif previously given judgment of an eight-year jail sentence. The allegations to shoot the security forces with the help of Molotov cocktails along with the violence acts associated with the protest that he included in the Awamiya's Eastern Province Town.
After the execution, the international news agency CNN contacted the Saudi Kingdom officials to know their opinion on the execution of Leif.  A Saudi Kingdom official said to them that justice served and referred to a foiled attack in the Zulfi Province on an intelligence center is a piece of evidence that terror groups still targeting the Saudi Kingdom and its people. Furthermore, the officials expressed that KSA believed on the zero tolerance policy against the terrorist and the terror group that killed innocent people and threat the Kingdom national security. United States Department's official said that they insisted the Saudi Kingdom to make sure the fair trial before execution. Moreover, Saudi Arabia is among one of those states which have the highest rates of the death penalty in the world.