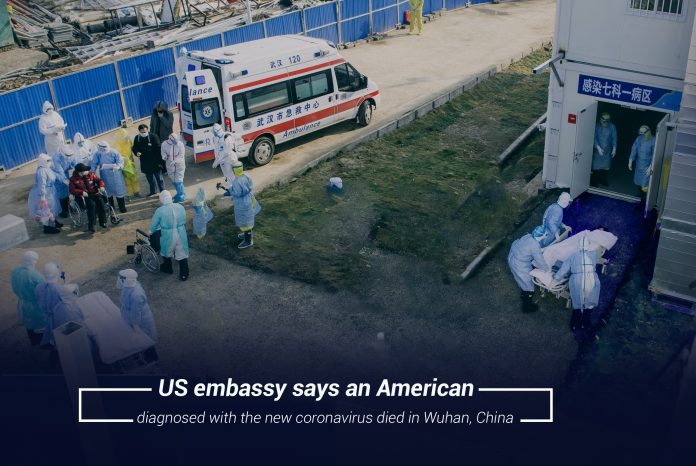 In the latest statement, the United States embassy in China said that an American diagnosed with the new coronavirus, lost his life in the virus outbreak city Wuhan, China on Thursday. It announced that they confirmed a sixty-year-old U.S. national diagnosed with 2019 coronavirus died in Wuhan at Jinyintian Hospital on 6th February 2020. They also send their sympathies to the victim's family on their tremendous loss. And because of the respect for the privacy of the concerned family, they didn't comment further.
An American has died from the new coronavirus in Wuhan, China. Few details about the US citizen, who died on Thursday, were immediately available. The person was around 60 years old, according to the United States Embassy in Beijing. https://t.co/FbWSzj49NY

— Gillian Wong / 黄敬龄 (@gillianwong) February 8, 2020
The death is the first known U.S. death due to coronavirus outbreak. The Chinese capital city of Hubei province, Wuhan is the epicenter of the outbreak and maximum deaths along with confirmed infected cases recorded. The National Health Commission of China stated on Saturday that the deadly virus killed over seven hundred people and infected more than thirty-four thousand across the world.
According to the latest figures of a Chinese province, around 699 deaths and about twenty-five thousand confirmed cases occurred in Hubei. Whereas, in Wuhan, nearly 545 people died due to coronavirus as of the end of Friday. The World Health Organization (WHO) declared the virus a global health emergency in January. The title enables the international organization to mobilize political as well as financial support to contain the virus outbreak.
CDC orders to Quarantine Wuhan evacuated people
In the meantime, the United States Centers for Disease Control and Prevention (CDC) issued necessary quarantine orders for the Wuhan evacuated people. In the last fifty years, the agency issued such orders for the first time. Washington continuously evacuates U.S. citizens from Wuhan and quarantining those people at military bases in the United States, including Lackland Air Force Base in Texas, Camp Ashland in Nebraska; March Air Reserve Base in Riverside County, California; Marine Corps Air Station Miramar in San Diego; Travis Air Force Base in California.
Also, the administration of Trump announced that it would commit over a hundred million dollars in existing funds to assist the World Health Organization, China, as well as other infected nations to fight against the coronavirus outbreak. The organization has been asking its member countries for giving donations to help with efforts as a response after tapping nine million dollars from its exigence fund for virus emergencies earlier this week. Alex Azar, the Health & Human Services Secretary, says that to discuss contributing further funds was premature.
Read Also: Closings of Apple store in China could delay 1 million iPhone sales