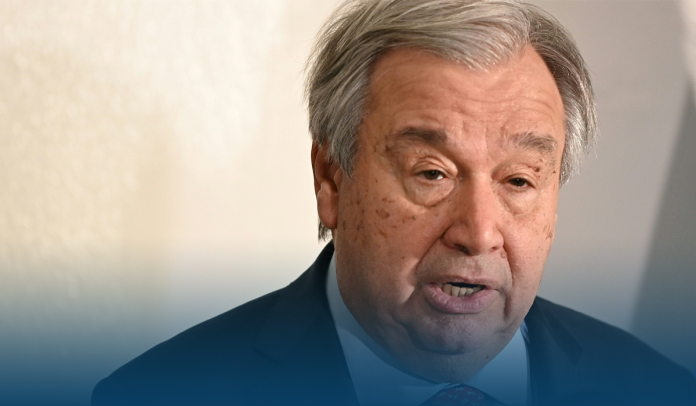 Israel's ambassador to United Nations criticizes Secretary-General Antonio Guterres for his remarks against Israeli force's attacks in Palestine Jenin. Ambassador has called the Secretary-General to take back his remarks on the Israeli forces for using excessive force and machinery to raid the Jenin refugee camp, causing great devastation in the occupied west bank. Many civilians were damaged after the deadly raid, which is still in action. United Nations's Dupety Spokesperson Farhan Haq responded on Friday and said Antonio Guterres presented his remarks regarding Israeli action, and he stands by his words and would not take his condemnation remarks back.
Guterres passed his angry views on Israeli attacks on Jenin posing a great danger to civilians and issued a statement on Thursday. In his statement, he said around 100 people were injured after deadly attacks, leaving thousands of civilians uprooted. Schools, and hospitals were damaged and attacks further distorted water and power supplies. He added that a devastating air raid carried out by Israeli forces and ground operations in a populated camp were the worst violence by occupied forces in years. Assaults caused acute damage to civilians and destroyed life cycles.
Guterres, UN Secretary-General, further criticized Israel for not letting the injured civilians to access the essential aid, medical care, and humanitarian workers to reach damaged areas. He further expressed that the absence of such aid in the devastated areas has left almost 12 Palestinians dead and around a hundred wounded. Things become severe when continuous attacks do not end, and the injured cannot access necessary aid letting people suffering from severe conditions.
International Community was Requested to Condemn Israeli Actions
Israeli UN Ambassador Erdan called Guterres's "remarks and criticism" of Israel "shameful" and said the chief's comments were far-fetched from reality. United Nations Security Council discussed Israel's operation in Jenin behind closed doors on Friday at the request of the United Arab Emirates and gathered information and received a briefing from UN Assistant Secretary General Khaled Khiari.
Before the council meeting, Erdan sent a letter to 15 council members saying the international community should unconditionally condemn and criticize the latest Palestanian actions in Jenin and hold the Palestinian leadership answerable for those terror attacks. He further claimed that Israeli forces have solely focused on the soldiers targeting innocent civilians.
A statement was issued on Wednesday, according to which two independent human rights experts claimed that ground and air assaults by Israeli forces in Jenin violate international laws and standers for weaponry, which can be considered war crimes. Until Friday, the Security Council took no action regarding Israeli attacks. Still, some serious actions are required as Palestinians are going through a tough time, and there is a situation of war.