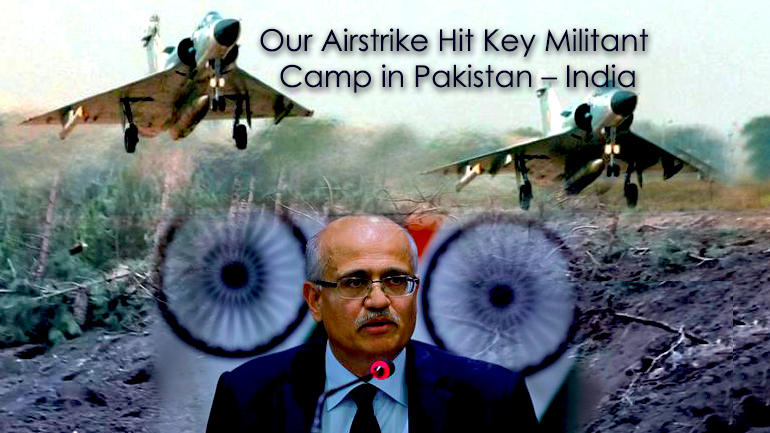 Indian foreign secretary claimed that their jet fighters hit the airstrikes at a militant camp into the Pakistan territory and they killed about three hundred militants in this attack. On the other hand, Pakistani officials denied this Indian claim of 300 casualties.
According to the Indian foreign sectary, their airstrike hit the Jaish-e-Mohammad training camp which takes the credit of suicide car bomb attack in Kashmir resulting about 40 Indian paramilitary police casualties on 14th Feb 2019. That was the attack after that environment between the two nuclear neighbors become warm. Indian officials said that they ordered the attack because their intelligence informed them that Jaish was once again making plans to make more attacks on the Indian army.
Indian senior diplomat stated that due to the presence of imminent danger they need a tactical strike necessary. He further said that without in the knowledge of Pakistani officials the existence of such training camps which are capable of training hundreds of Jihadis is not possible.
Statement of Pakistani DG ISPR Major General Asif Ghafoor
Whereas, Pakistanis always used to claim that India intelligence and officials still involved in the terrorist activities happening in Pakistan. Pakistan's DGISPR Maj General Asif Ghafoor Bajwa tweets today that the Indian aircraft cross the Line of Control (LOC) in Muzaffarabad Sector about 3-4 miles. In the result of attacks nor a single infrastructure was hit neither an only causality happened.
Furthermore, he shares the pictures and videos of the targeted area attacked by Indian crafts that were completely undamaged. He stated that the Indian Air Force violated the LOC. He threatened India now to get ready for a surprise from the Pakistani forces as they never give them a surprise because Pakistani officials were expecting this from Indians.
The Pakistani villagers of the point where Indian aircraft do strikes said that they heard four loud explosions early in the morning which results in only a single wounded person. Mohammad Ajmal a young boy after visiting the site that they saw fallen trees, a single damaged house with four craters.
Pakistani Foreign Minister Shah Mahmood Qureshi's Statement
Pakistan's present foreign minister Shah Mahmood Qureshi said early in the morning that they warned India not to challenge Pakistan's power.
Gokhale about the Airstrike
Gokhale claimed that a massive number of militants were executed in the results of their airstrikes on a training base in Balakot, KPK but they are unable to give the exact figures. He said that the camp's commander was Maulana Yusuf Azhar who is brother in law of JeM leader Masood Azhar.
Effects of Uncertainty on Indian Economy and Markets
Due to the uncertain atmosphere of India with Pakistan and their claim of airstrikes in Pakistani territory the Indian rupee falls to 71.16 as compared to 1 dollar from 70.98 when closed on Monday. A deficiency seen in the exchange market of India due to their increase tensions with Pakistan.
A large number of experts in Pakistan also said that Indian Prime Minister Narendra Modi is preparing for the upcoming elections in the next couple of months by his 'blaming Pakistan tragedy.' He wants to buy the votes in the coming elections by adopting the aggressive policy with Pakistan. Because he knows that the Indian nation is too much violent and emotional with the relations with their neighbors if he continues his aggressive policy with Pakistan and their officials it will help him in the coming elections. Modi and his government openly blamed Pakistan for the attacks on the Indian army in Kashmir resulting 40 soldier's causalities.
Whereas, Pakistani Prime Minister and former Pakistan's cricket team captain Imran Khan refused the Indian blame that his country involved in an attack on Indian army. Moreover, he offered Pakistan's services to the Indian officials to investigate the offense if they provided any credible evidence regarding this.