On Tuesday, Boris Johnson, Prime Minister of the United Kingdom, presented Volodymyr Zelenskyy, President of Ukraine, with "2022 Sir Winston Churchill Leadership Award" in an online ceremony, making similarities between the two leaders in hard times.
The award acknowledges inspirational leadership by individuals in the spirit of British statesman Winston Churchill, a wartime leader who led the U.K. to 'win' in World War II. The British leader said Ukraine's Zelenskyy had met a leadership test just as severe as Winston Churchill. And he has, with typically Churchillian calmness, displayed to the world what bravery and fortitude really mean. His open resistance, nobility, and tranquility under pressure have prompted millions.
Today Prime Minister @BorisJohnson presented President @ZelenskyyUa with the Sir Winston Churchill Leadership Award for incredible courage, defiance and dignity in the face of Putin's barbaric invasion.

The UK will always #StandWithUkraine 🇬🇧🇺🇦 #ChurchillAward pic.twitter.com/o2uYP9m8LB

— UK Prime Minister (@10DowningStreet) July 26, 2022
In addition, the U.K.'s PM said it's his huge privilege to present the Ukrainian leader with this award. On the other hand, the President of Ukraine said that no one could tell how much time and determination it would take to defeat the enemy, but the success is meaningful. He added he'd like to express gratitude for the award for Ukrainians.
Laurence Geller CBE, Chairman of the International Churchill Society (ICS), stated that Churchill once said: All great things are simple, and many can be expressed in a single word: freedom; justice; honor; duty; mercy; hope.
Immediate Charity
Mr. Geller added that the Society was founded to remember and study the life and works of Sir Winston Churchill. However, it's Ukraine's Volodymyr Zelenskyy and his brave people that embody them. Geller continued that he's also authorized an immediate payment of $60,322 to an umbrella group of UK charities headquartered in London, U.K., the Disasters Emergency Committee, to help refugees from Ukraine.
Furthermore, the two leaders have constituted a closed relationship since PM became the first European leader in making a trip to the former Soviet state of Ukraine after Moscow's cruel and unprovoked incursion. Earlier in July, the president of Ukraine said he was depressed when UK's Johnson resigned as Conservative leader.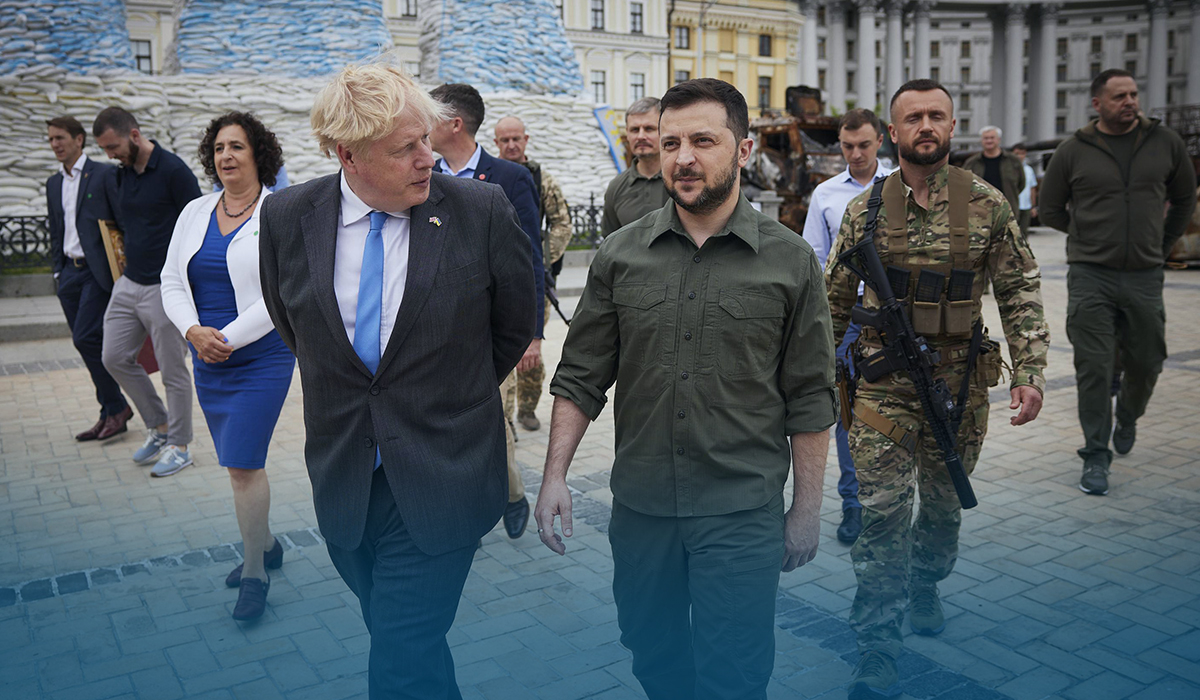 The Churchill award was first given in person by the grandson of Sir Winston in 2006. Moreover, HRH The Prince of Wales, ex-UK PM's The Rt Hon Sir John Major and the Rt Hon Baroness Thatcher, and the ex-State Secretaries of America, James Addison Baker III and Madeleine Jana Korbel Albright are also the recipients of the award.
Read Also: Ukraine First Lady Zelenska Urged US Lawmakers to Deliver More Arms