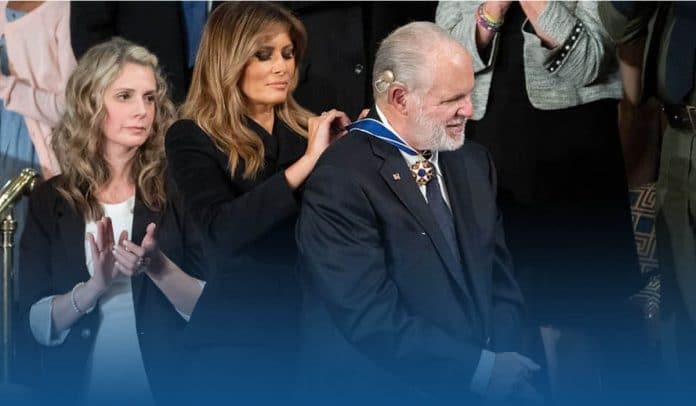 Rush Limbaugh, who deployed comic bombast and relentless bashing of liberals, feminists, and environmentalists to become influential radio talk-show host and lead the Republican Party into a politics of anger and obstruction, died February 17 at 70.
His death comes after stage IV lung cancer was diagnosed in October.
Limbaugh virtually created the style of political "shock jock" radio that made him so influential. His broadcasts, featuring attacks on opponents as purveyors of what we now call "fake news," became the template for television's Fox News, and at its peak played a considerable part in Newt Gingrich's "Republican Revolution" of 1994, which recaptured the House of Representatives from Bill Clinton's Democrats.
I grew up listening to Rush Limbaugh 3 hours a day as a home-schooled kid. My parents idolized him.

5 years ago my parents called me: "Rush is about to talk about you!"

I was in the news for slashing my CEO pay to raise our min wage to $70k. I excitedly turned on his show (1/6)

— Dan Price (@DanPriceSeattle) February 18, 2021
Rush Limbaugh announced on October 20 that his stage IV cancer had become terminal and that doctors had detected new growth.
Donald Trump awarded Rush Limbaugh the Presidential Medal of Freedom
On February 3, 2020, Limbaugh announced that he was undergoing treatment following episodes of shortness of breath. Limbaugh said during a live broadcast that the upshot is that he has been diagnosed with advanced lung cancer. Mr. Limbaugh said that there are going to be days that he will not be able to be there because he will be undergoing treatment.
Former President Donald Trump awarded him the Presidential Medal of Freedom in an unannounced move the next day when Limbaugh attended the State of the Union address. Trump said he is the greatest fighter that we will ever meet.
Late in 2020, Limbaugh thanked his listeners and supporters in his final broadcast of the year.
Limbaugh is survived by his wife, Kathryn Adams Limbaugh. When she announced her husband's death on his radio show on Wednesday, she said that Rush Limbaugh encouraged so many Americans to think for themselves. He also urged people to learn and to lead. Rush often said it didn't matter where we started or what we look like, as U.S. people all have endless opportunities like nowhere else in the world. Moreover, she expressed his vision 'there would be a tremendous void in their lives and on the radio.'
Early Life and Radio Career
Rush Hudson Limbaugh III was born on 12th January 1951, in Cape Girardeau, Missouri, U.S. Limbaugh dropped out of Southeast Missouri State University after two semesters to pursue a career in radio.
He premiered The Rush Limbaugh Show from WABC-AM in New York in 1988. It eventually became syndicated on several AM and FM radio stations nationwide, making Limbaugh the most popular radio host in the United States of America. Rush Limbaugh fans became known as 'dittoheads.'
Rush worked as a disc jockey for stations in Kansas City and Pittsburgh but found success in 1984 when hired to replace confrontational radio show host Morton Downey Jr. for KFBK in Sacramento.
The Rush Limbaugh Show gained increasing success with conventional listeners following his support of the 1990-1991 Gulf War and his criticism of Democratic President Bill Clinton's candidacy and administration in the 1990s.
Limbaugh has used his radio show to discuss his health problems. He revealed in October 2001 that he had extensive hearing loss, saying he is, for all practical purposes, deaf. In December 2001, his hearing was much restored with cochlear implant surgery.
On Oct. 10, 2003, Limbaugh declared on his show that he suffered from an addiction to painkillers. He took time off to enter rehab and returned in Nov. 2003.
Influence and Legacy
Rush inked a 285-million-dollar contract for 8-years by 2001. Later, Rush Limbaugh signed one of the most productive radio deals at the time, a 400-million-dollar contract with Premiere Radio Networks in 2008. In 2016, he renewed his contract and again in 2021. By 2017, he was the 2nd highest paid radio host in the U.S., earning an annual salary of $84 million, second only to Howard Stern.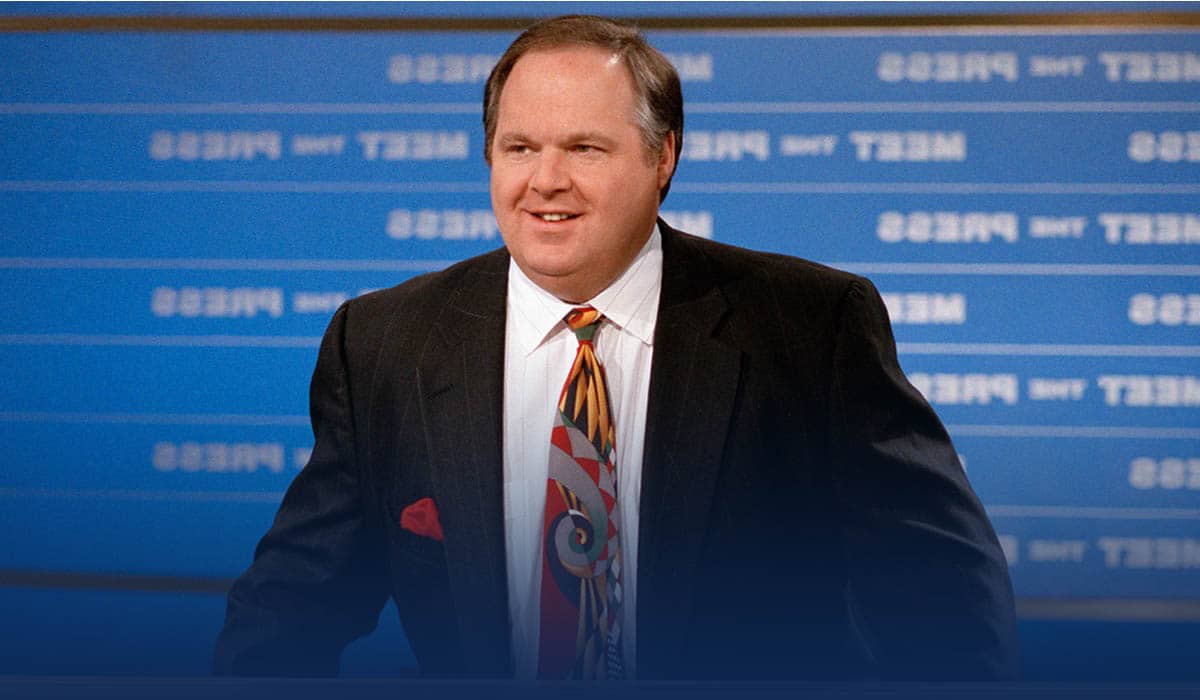 See, I Told You So, and The Way Things Ought to Be, are Rush Limbaugh's first two books, which made The New York Times bestseller list in 1993 and 1992, respectively.
The National Radio Hall of Fame enlisted Rush Limbaugh in 1993 and the National Association of Broadcasters Hall of Fame in 1998.
Most recently broadcast from noon to 03 p.m. ET weekdays, The Rush Limbaugh Show has remained successful.