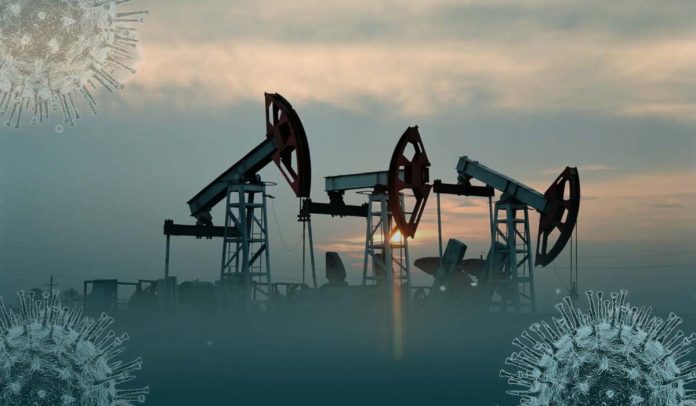 According to energy analysts, growing fears over the mounting cases of coronavirus are putting the global oil demand recovery on hold, moderating oil prices gains, and raising concerns over a fresh supply of surplus in the upcoming few months. COVID-19 infection rates are increasing in some of the biggest oil-consuming countries of the world as they fight to contain new outbreaks with a second-wave of quarantine measures.
ICYMI: Second-wave #coronavirus fears trigger rethink on #oil demand recovery

➡️ Oil demand rebound by 2022 in doubt
➡️ Japanese mobility slumps after infection spike@RobPana reports: https://t.co/8pKLbNos3d#PlattsAnalytics #COVID19 #OOTT pic.twitter.com/co44RWx3YN

— Platts Oil (@PlattsOil) July 30, 2020
More than a quarter, world oil consumer countries are facing a large number of new daily cases
The United States, Brazil, and India, collectively consume over a quarter of the worldwide oil, continue to post the significant number of new daily coronavirus cases makeup around two-thirds of the international tally. Efforts to keep infection rates under control elsewhere are also struggling. Whereas, in Japan, the fourth-largest oil consumer of the world, a spike in new infections escalates new lock-down fears.
Thus, the observers of the oil market are revisiting their demand estimations, most of them previously forecasted that world oil demand would recover from an April nadir of almost eighty million barrels per day sometime during 2021. This week, Goldman Sachs estimate that the pace of monthly oil demand gains set to slow to under one million barrels per day from August through December, after surging 12.5 million barrels per day from April to July.
Goldman said in a note that this slowdown drove by a sharp delaying in the United States because of the resurgence of the COVID-19, an only slight surge in worldwide jet demand, and ultimately the headwinds to stabilizing activity even in countries where the virus remains under control. By 2020 end, Goldman foresees global oil demand at 96.3 million barrels per day, still down six million barrels per day, or six percent, on its pre-coronavirus expectations.
Global oil demand not likely to recover to 2019 levels before the 2022 end
Last week, Rystad Energy changed its base case scenario for oil demand citing mounting 2nd-wave infections of coronavirus, saying it now perceives worldwide oil demand not likely to recover to 2019 levels before the 2022 end. The consultants of Norwegian foresee global oil demand staying comparatively flat from July to October 2020 and growing at a much slower rate than previously projected. The base case scenario of Rystad demonstrates international oil demand averaging 89.7 million barrels per day in 2020 and 97.1 million barrels per day in 2021, compared to over 99 million barrels per day in 2019.
Global Mobility Recovery hits second-wave hurdle
The below graph shows the rolling, one-week average mobility trend in workplaces, retail and recreational sites, and transport hubs. The baseline day is the median value from the five weeks 3rd January 2020 to 6th February 2020.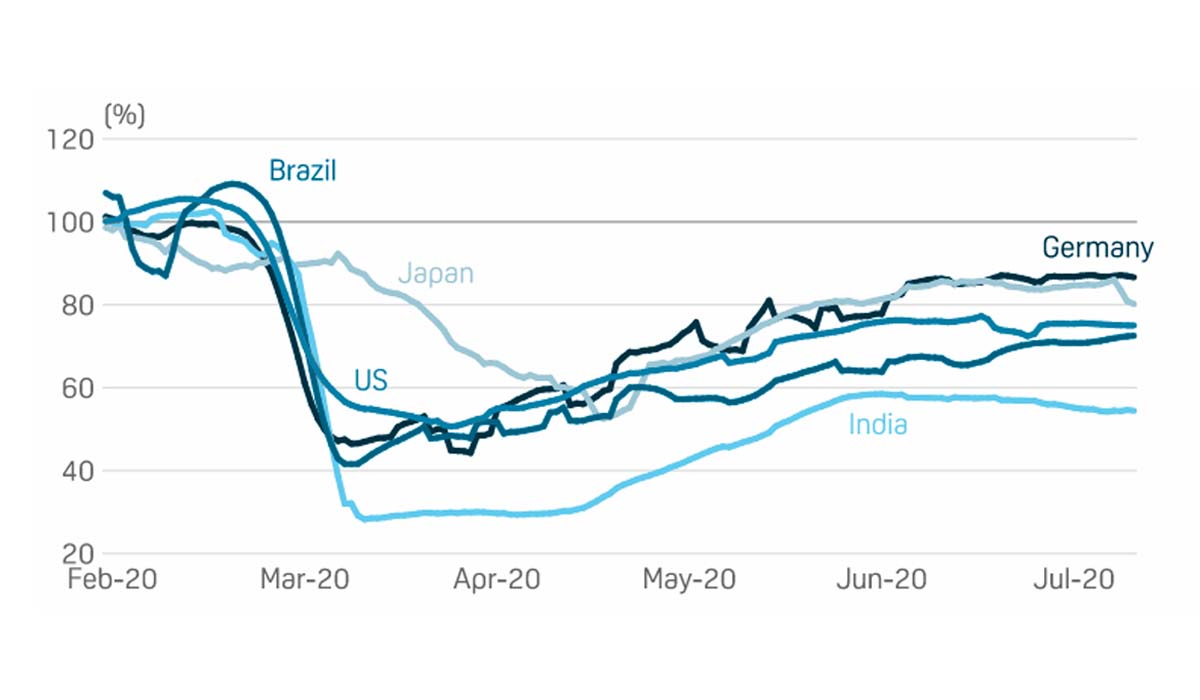 Weakening mobility statistics
The key source of the escalating pessimism on oil demand comes from worldwide mobility indicators, which demonstrates that the recovery from April lows mainly came to a stop in early July. According to the statistics from Google, global activity weekend in workplaces, recreational and retail sites, as well as transport hubs in most of the biggest oil consumer countries of the world.
In the United States, the worst-hit country in the world, the statistics of Google show sign of a July slowdown in economic mobility, which dropped to twenty-five percent below the pre-crisis level previous week. According to investment bank Jefferies, wider United States economic activity continued to move sideways last week and shown zero growth since mid-June.
The Google statistics said that the mobility level in Japan fell to the lowest level since early June last week after the latest increase in infections raised fears that the nation will impose a state of emergency for the second time. Whereas, in Europe, efforts to control new COVID-19 infections through contact tracing are struggling. Madrid ordered mandatory to wear a face mask in public places, and Belgium stricter the social distancing rules. On the other hand, the United Kingdom executed a two-week quarantine on travelers from Spain (the country with a rising number of infections).
Read Also: The world May never recover its oil Thirst