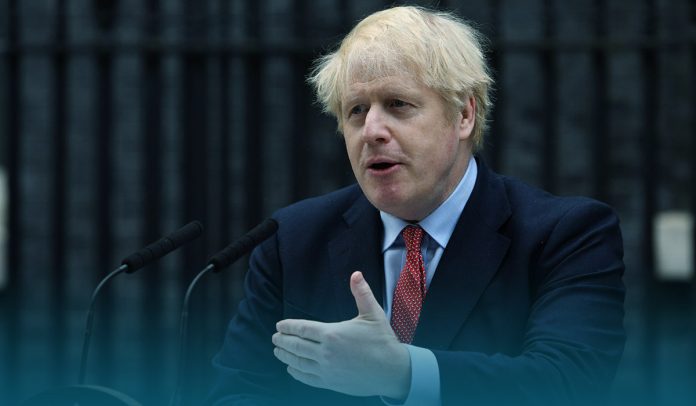 Boris Johnson, the Prime Minister of the United Kingdom announced on Sunday that the citizens will able to take sunbathe in their local parks and exercise as mush as they want from Wednesday. Also, they will free to travel other destinations on only cars. Johnson made decision to reopen the economy of the country gradually. On Saturday, Johnson revealed a road map in a pre-recorded TV statement to restart economy in the country following over six weeks under lockdown amid coronavirus pandemic.
From Wednesday, people in the UK will be able to sunbathe in their local parks, exercise as much as they want and drive to other destinations, Prime Minister Boris Johnson announced Sunday, as he laid out his vision for gradually restarting the economy. https://t.co/G1rGjbrBVh

— Vivian Salama (@vmsalama) May 10, 2020
Until the announcement of the Prime Minister, people with non-essential jobs were directed to leave home once a day to buy food or medicine and for local exercise. He said that from Wednesday, his administration wanted to encourage residents to take extra and even unrestricted amounts of outdoor exercises. One can sit in the sunlight in the local park, and can drive on his personal car to other destinations. Moreover, any citizen can even play sports nearby hi home but only with his household members.
New Slogan of the U.K. government
The announcement of Johnson aimed to relax the messaging around the lock down of the U.K., while further details on exactly which restrictions will be relax to announce today. Johnson officially launched the new slogan of the government in his address, replacing guideline "stay at home" to save lives, to "stay alert."
Everyone has a role to play in helping to control the virus by staying alert and following the rules.

This is how we can continue to save lives as we start to recover from coronavirus.#StayAlert pic.twitter.com/2z9yl1Fxs4

— Boris Johnson #StayAlert (@BorisJohnson) May 10, 2020
Johnson urged his nation in a tweet to still stay at home as much as possible and also limit interaction with other people. Furthermore, he asked his people to maintain the social distance of two meter. He suggests that the government will allow people to exercise their own judgement to some extent how to resume socializing and their work.
The British Prime Minister announced a latest five-tier alert system, just similar to it already engage to assess terror threats. According to him, the country is now at level four, with five perceive as the highest level of threat, and after easing the restrictions the country may soon at level three.
What does new slogan, "Stay alert" signifies?
Social media users criticize the "stay alert" message of Johnson and ridicule it on social media, as dissimilar "stay home," it is not clear what it means in practice. Jenrick defended the new message of the prime minister and said that the nation needs a more nuanced message and stay at home may still be an important part of the message.
Our government has handled Coronavirus so badly that it's made me extremely grateful to @PiersMorgan. FFS!!

(For the record: New guidelines say you can meet ONE person at a time, 2 metres apart.)#ThanksBoris #StayAlertpic.twitter.com/1MV1yj4v9c

— Femi (@Femi_Sorry) May 11, 2020
Just saw what I thought was a tall man but it was actually three viruses on each other's shoulders in a long coat #StayAlert

— Ed Gamble (@EdGambleComedy) May 11, 2020
The government of the United Kingdom did not faced criticism for the first time over its communications with its public while responding the coronavirus pandemic. Prime Minister telegraphed earlier this week that his administration hoped some positive changes to the lockdown of the country announced on Sunday would implement as early as Monday.
Hundreds of people spotted at the public parks after easing orders
Because of his lack of details about the precautionary measures, the British media prompted a burst of speculation. After the new suggestions from the government to relax the restrictions, it seen a massive crowd of people photographed in parks of London taking sunbath and enjoying picnics as sunny weather attracted them to break the restrictions of lockdown over the weekend.
According to the local police officials they forced to disperse groups of people drinking wine and beer, and sharing pizza and other food items. The new slogan of Johnson also put it at odds with the smaller three nations of the United Kingdom. Northern Ireland, Wales and Scotland extended their lockdown orders to 28th May and officials from all these three nations had nor coordination between Downing Street and their governments over the new messaging. Therefore, they would continue to spread the message "stay at home" among their people.
On Sunday, Nicola Sturgeon, the First Minister of Scotland said that people in her nation could start exercising over once per day from Monday. The United Kingdom is one of the hardest-hit countries of the world in the COVID-19 pandemic. According to British government statistics, over thirty-one thousand people died due to the fatal virus. Moreover, the world largest economy, the United States latest coronavirus predicted over 1,34,000 U.S. deaths.
📺 Watch live: First Minister @NicolaSturgeon holds a press conference on #coronavirus (#COVIDー19).

Joining the First Minister today is Health Secretary Jeane Freeman and Scotland's Interim Chief Medical Officer Dr Gregor Smith. https://t.co/xVfVl5wz7t

— Scottish Government (@scotgov) May 10, 2020
Read Also: How to stop 2nd wave of COVID-19 that may hit again