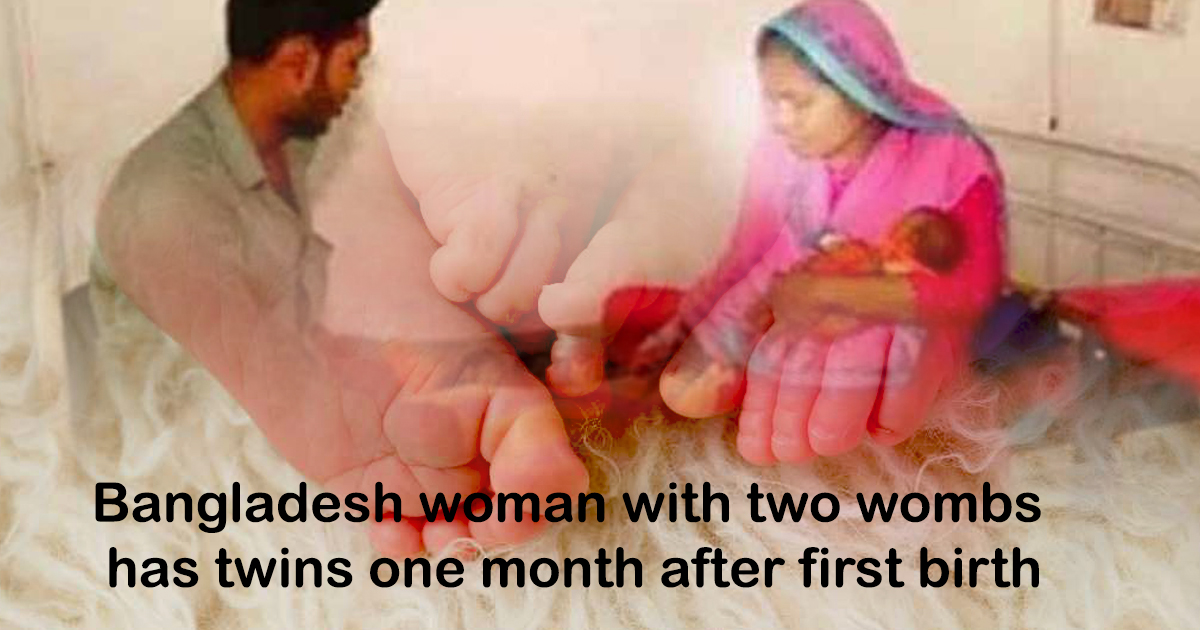 A doctor in Bangladesh said that the 20 years old Bangladeshi women Arifa Sultana give birth to twins just one month after her first pregnancy delivering a premature baby boy. She gives first birth in late February, and after twenty-six days she moved to another hospital due to the pain she feels in her stomach. At that time, the doctors examining her come to know that the patient is still pregnant with twins in her second uterus. After understanding the situation, they performed Cesarean in an emergency. Furthermore, Arifa twins noticed to be healthy and mother with twins discharged within a few days without any complications.
Doctors Surprised due the Situation of Twins Birth after 26 days of First Abnormal baby's Birth
Arifa Sultana belongs to the rural area of Bangladesh, and at Khulna Medical College Hospital she delivered her first baby. And after 26 days, she feels pain her stomach, and on 21 March she shifted to the Addin Hospital in the district of Jessore. The gynecologist, Dr. Sheila Poddar performed her Cesarean and confirmed the twin's delivery date. Whereas, some media reporters announced the Cesarean date as 22 March.
Moreover, Ms. Poddar performed the ultrasound of the patient and come to know that there were twin babies inside her second uterus. Dr. explained that she and her team surprised and shocked when they found the case. Also, she said that she never observed a similar situation before this patient.
Until now, it is not clear why the twin's mother rushed to a different hospital. Maybe she doesn't know that she needs the gynecologist as she was thinking of stomach pain. However, Dr. Poddar reveals that Arifa Sultana and her husband are very poor and she had never undergone any ultrasound before her first delivery. The mother had no awareness that she had two other babies in her womb. Dr. with her team carried out the cesarean of patient delivering twins, one female, and male. Ms. Arifa with her twins discharged after four days stay at the hospital on 25 of March.
In Singapore, a gynecologist defined the term uterus didelphys as 'mother having two uteruses.' She said that people think that the case of having two uteruses are, but it is not. It is actually a disorder when a female develops two wombs instead of one. These type of abnormalities differ in severity whereas, in a few cases, it may cause the problems of fertility.