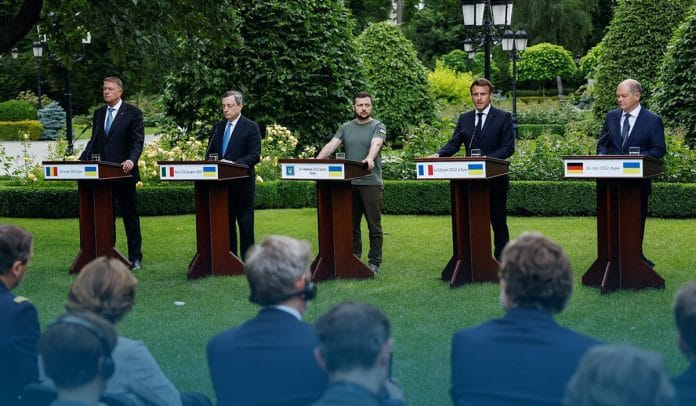 On Thursday, French President Emmanuel Macron, German Chancellor Olaf Scholz, Italian Prime Minister Mario Draghi, and President Klaus Iohannis of Romania demonstrated support for Ukraine amid its struggle against the Russian invasion. Macron said that it was a crucial moment. In collaboration with each other, they send a message of unity to the Ukrainians.
In a show of support for Ukraine during its battle against the Russian invasion, French President Emmanuel Macron, German Chancellor Olaf Scholz, Italian Prime Minister Mario Draghi, and Romania's President Klaus Iohannis all visited Kyiv on Thursday. pic.twitter.com/6McMWuNwwR

— Live News Now (@LiveNewsNow6) June 17, 2022
Ukraine is evaluating whether the European Commission should recommend candidate status for EU membership. According to the four, Ukraine will receive candidate status in the economic bloc after a discussion with Ukrainian President Volodymyr Zelenskyy. Scholz said that he and his team reached Kyiv with a clear message, "Ukraine belongs to the European family."
In his speech at the Kremlin Security Council, former Russian President Dmitry Medvedev described the European leaders as "frogs, liver, and pasta connoisseurs" who brought no benefit to the country. Medvedev tweeted that once more, they promised European Union membership and old Howitzers, poured some vodka into it, and, like hundred years ago, rode the train home," he added. There is nothing wrong with that. It is just that this doesn't help Ukraine find peace. On the contrary, it's ticking the clock at a rapid pace."
During his address to the nation, the Ukrainian president said it was important for him and his government to hear that the European leaders settled on ending the war and that peace for the country should be as Ukraine sees them. However, he said the Ukrainian military would continue fighting for all their lands.
Military Aid for Ukraine
Ukraine's troops continue to hold out in Sievierodonetsk, where the fighting continues. However, Ukrainian forces claim to have made some progress in regaining some of its southern territories. He said the West must continue supplying Ukraine with weapons to win the war. As a result of conversations with his European counterparts, he pointed out he appreciated the support already provided by partners; he expects to receive new deliveries in the future, including heavy weapons, modern rocket artillery, and anti-missile defense systems.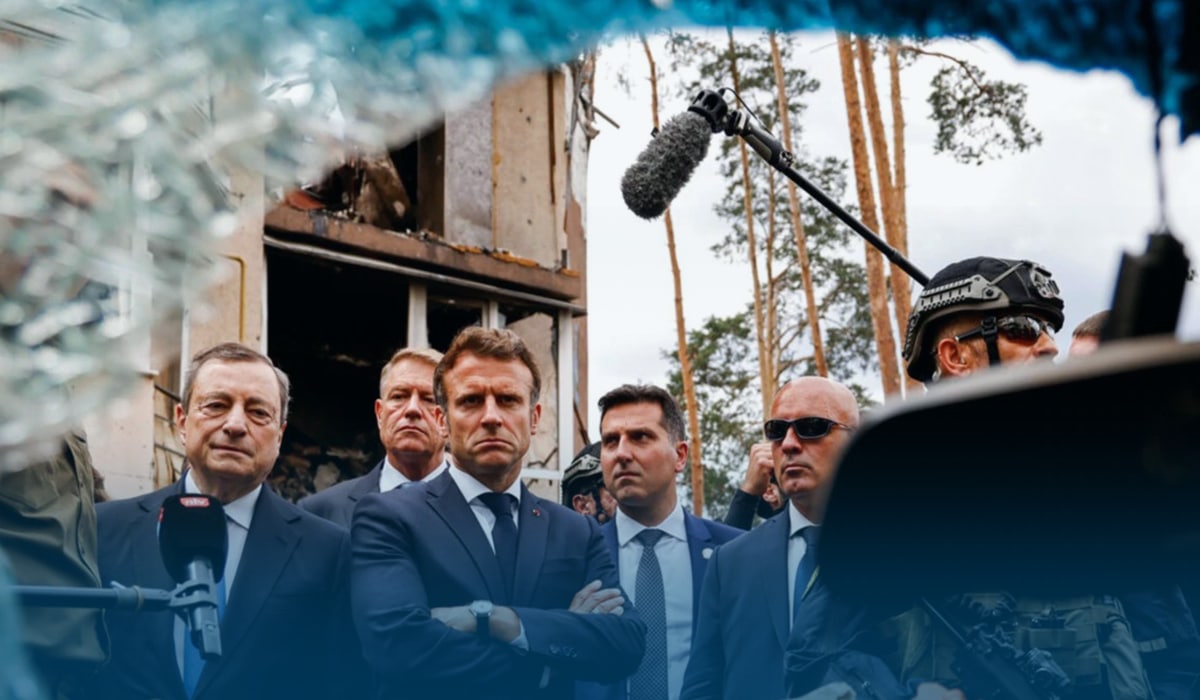 In addition to six more truck-mounted artillery guns, Macron promised a faster delivery of advanced weapons. During NATO's meeting in Brussels, defense ministers from forty-five nations discussed delivering weapons to Kyiv and bolstering the alliance's eastern borders. Washington announced Wednesday $1 billion more in military aid to Ukraine, its 12th and the largest tranche of weapons, including equipment to counter the Russian slow but relentless advance into eastern Ukrainian Donbas.
Read Also: 3 Foreigners Sentenced to Death to Support Ukraine