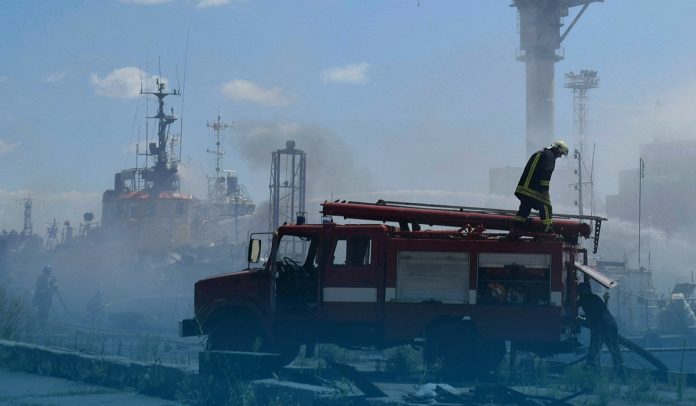 A spokesman for the Odessa military administration, Serhii Bratchuk, said Russian missiles struck the Odesa Commercial Sea Port on Saturday, just a day after Kyiv and Moscow reached an agreement that would permit the recommence of export of millions of tonnes of stuck Ukrainian grain through the Black Sea.
Sehrii Bratchuk said two 3M-54 Kalibr cruise missiles fired by Russians struck the Odessa port infrastructure, and two other missiles were destroyed by Ukraine's air defense. According to the People's Deputy of Ukraine, Oleksiy Honcharenko, six blasts were heard. Air raid sirens sounded at around 11:00 AM, with the sounds of explosions echoing across the important coastal trading city in Ukraine's South.
According to official reports, the air strikes came just one day after Russian and Ukrainian ministers signed a deal, brokered by the Republic of Turkiye and the U.N., to resume exports of grain through Black Sea ports of the war-torn country intended to relieve the world hunger stimulated by the cruel Russian war.
Furthermore, Kaja Kallas, Prime Minister of Estonia, a country in Northern Europe, said the world must assist Kyiv to vigorously fighting off Russian assaults. Joseph Borrell Fontelles, High Representative of the EU for Foreign Affairs and Security Policy, also said the 27-member political and economic bloc heavily criticized the strike.
Precision Strike
Ukrainian journalist Danylo Mokryk said that Moscow signed a UN agreement permitting grain exports from three ports, including Odessa port, the largest Ukrainian seaport and one of the largest ports in the Black Sea basin. But Putin-led military struck the port with Kalibr missiles. That is all the world needs to know regarding accord with the Kremlin.
EU strongly condemns Russian missile strike on Odesa's seaport. Striking a target crucial for grain export a day after the signature of Istanbul agreements is particularly reprehensible & again demonstrates Russia's total disregard for international law & commitments#StopRussia

— Josep Borrell Fontelles (@JosepBorrellF) July 23, 2022
According to Maria Zakharova, Russia's Information and Press Department Director, the air attack employed high precision 3M-54 Kalibr guided missiles and ruined Ukrainian military infrastructure. She added one Ukrainian Naval ship had been wrecked in the precision attack.
On the other hand, Volodymyr Zelenskyy, the President of Ukraine, said that the air strike on the Port of Odessa ruined the feasibility and likelihood of negotiations with Moscow. In addition, according to an economic adviser to Mr. Zelenskyy, Oleh Ustenko, the war-torn country in East Europe, has the potential to export sixty million tons of grain in around nine months if its seaports were opened, but Moscow's attack on Odessa Seaport signaled it would definitely be challenging.
Ustenko said that Kyiv could make ten billion dollars by exporting 20M tons of its silos grain and 40M tons from its fresh harvest. And out of the total 60M tons harvest, 20M tons are for domestic use.
Read Also: Russian Military Claims to Destroy 4 US-Provided HIMARS Earlier in July