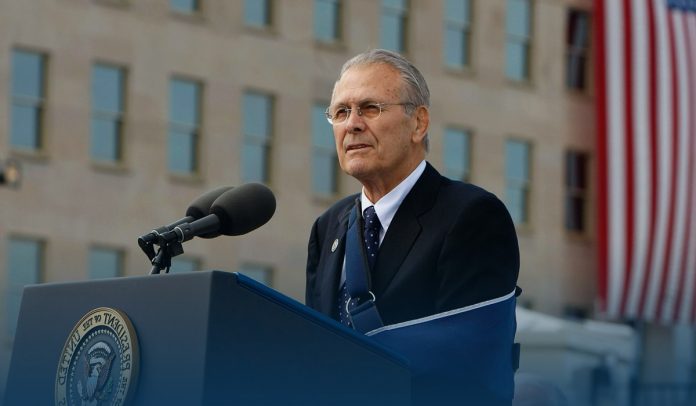 Donald Rumsfeld, the former Secretary of US Defense, who was the leading architect of the Iraq war and served as US Defense Secretary for two American Presidents, has died on Tuesday at the age of 88.
His family said in a statement that it's with deep sorrow they share the death news of US statesman and wholehearted husband, father, and grandfather, Donald Rumsfeld. Rumsfeld died surrounded by family in his beloved Taos (a town in northern New Mexico). No death cause was immediately provided.
Donald Rumsfeld, US secretary of Defence during #Iraq war has died at the age of 88.#DonaldRumsfeld pic.twitter.com/MvO3XxFDR8

— Aniqa Nisar (@AniqaNisar) July 1, 2021
Rumsfeld is the only person to serve two times as the Pentagon Chief. He made a shock return to Cabinet when he was nominated to run the Pentagon by President G W. Bush, who assumed office in Jan. 2001. Furthermore, Rummy, as he was often called, had formerly served in the same role for Gerald Ford, the former US President, in the 1970s, and history would remember Donald Rumsfeld as the "youngest and the 2nd oldest US Defense Secretary."
Rummy had a bubbly, cheerful personality. He was witty, ambitious, energetic, and capable of great personal warmth. But he irritated some with his forceful arguing style.
Former US Defense Secretary Rumsfeld made a short run for the GOP Presidential nomination in 1988, an eye-catching flop that he once expressed as humbling for a person used to success at top government levels, including stints as US ambassador, White House Chief of Staff and Congressional member.
For all his achievements, it was the setbacks in Iraq in the terminal period of his career that would likely etch his legacy's most striking features. Moreover, with Rummy in charge, American forces quickly overthrew Saddam Hussein, Iraqi President, but failed to maintain law and order as a consequence, and Iraq landed into chaos with bloody violence and insurgency between Shia and Sunni. American forces remained in the country until 2011.
Furthermore, Donald Rumsfeld was known for high-handed treatment of some military officers and Congressional members and infighting with Bush-team members, including State Secretary Colin Powell. Moreover, he alienated American allies in Europe.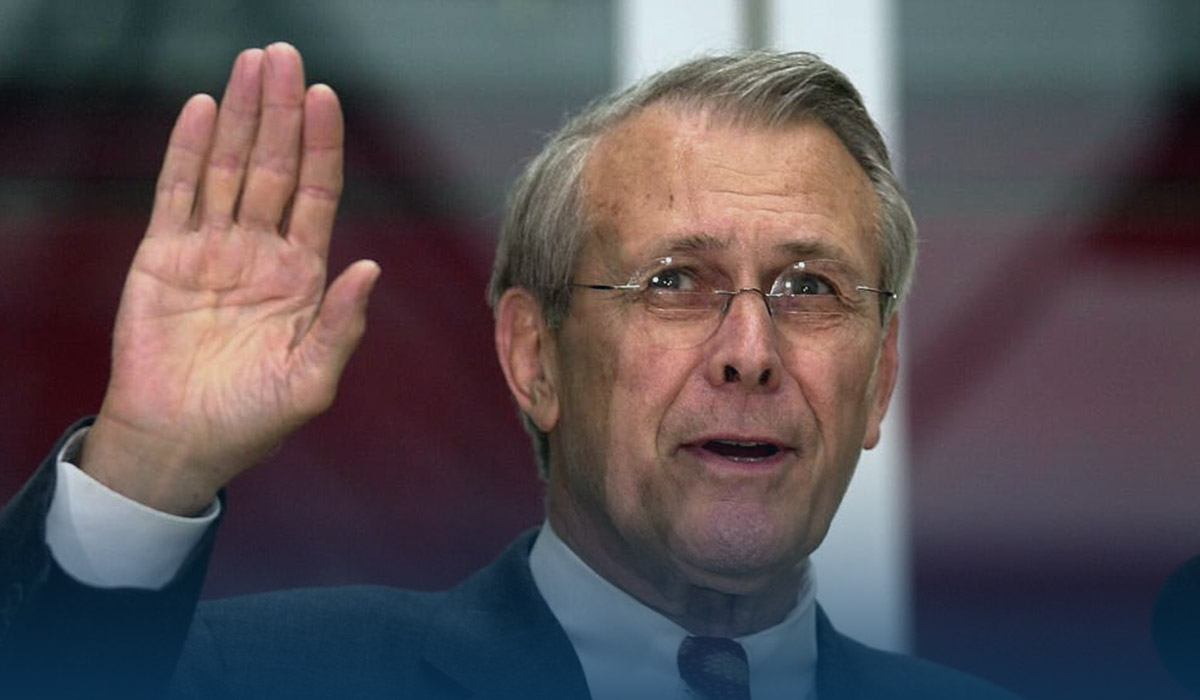 On September 11, 2001, nine months into his 2nd stint as United States Defense Secretary, suicide hijackers hit the World Trade Center (New York) and the Pentagon, pushing the country into wars for which the military was unprepared. Rumsfeld oversaw the American invasion of Afghanistan and the fall of the Taliban insurgency.
Rummy also served as a Navy pilot, United States NATO ambassador and was elected to the House of Representatives.
Donald Rumsfeld is survived by Joyce, his wife, and three children.
Read Also: American Forces in Syria Attacked by Rockets After US's 'Defensive Airstrikes'