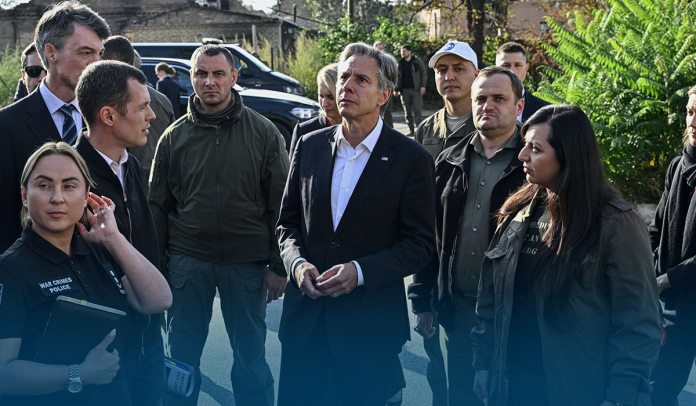 Emphasizing on the strong-willed American assistance for Ukraine, Antony Blinken, the US Secretary of State, made an unexpected visit to the Ukrainian capital on Sept. 8, and Joe Biden, the President of America, increased the defense aid by around 2.7 Bn dollars to the war-torn country and other Western allies endangered by Moscow. The new support includes additional security assistance to Kyiv worth 675M dollars.
According to media reports, the latest support came as Washington wanted to accelerate Ukraine's counter-strike against Moscow's aggression – and due to apprehensions that public support is declining as the brutal conflict continues. The U.S. President, Lloyd Austin, the US Defense Secretary, and Ukraine's Minister of Defense, Oleksiy Reznikov, all attended the Ukraine Defense Contact Group meeting at the Ramstein Air Base, Germany.
Some 50 countries participated in the meeting hosted by Mr. Austin and focused on the continuing crisis in the East European state and associated defense issues facing OTAN allies and partners. In addition, the Defense Contact Group heard from Mr. Rezinkov and Lt. Gen. Yevhen Moisiuk, the Ukrainian Deputy Chief of Defense. The US Defense Secretary said it's highly worthwhile to have Rezinkov and Moisiuk with us in-person as Kyiv commences its counterattacks in the port city of Kherson in the country's South.
Furthermore, Jens Stoltenberg, Secretary-General of the North Atlantic Alliance (NATO), also participated in 8th September's meeting at US' Ramstein AB in Ramstein-Miesenbach, Germany. Stoltenberg underlined the need for additional security financing to be delivered to Kyiv to support in its right to self-defense. NATO Chief also greeted that the military alliance's partners continue to increase and speed up more economic, humanitarian, and security support for the brave people and forces of Ukraine.
What includes in US military aid?
US Defense Secretary Lloyd Austin, the U.S. Chairman of the Joint Chiefs of Staff Gen. Mark A. Milley, Ukraine's Lieutenant General Yevhen Moisiuk, and Christine Lambrecht, German Defence Minister, also joined the meeting of the Ukraine Defense Contact Group. The massive assistance announced in the meeting includes munitions, Howitzer weapons, anti-tank systems, and High-Mobility Multipurpose Wheeled Vehicles. America has already committed nearly thirteen billion in defense aid for the Ukrainian military forces.
According to media reports, in the Ukrainian capital city, Antony Blinken said that government would send more than 2.2 Bn dollars in security assistance to the post-Soviet state of Ukraine and eighteen of its neighboring states, possibly in danger of future Moscow violence. That massive financing is on top of a 675M dollars defense package of heavy weapons, armored vehicles, and ammunition for Ukrainians alone, according to the proclamation made by Mark Milley and Lloyd Austin.
Read Also: America Accuses Moscow of Forcibly Deporting Ukrainian People to the Far East