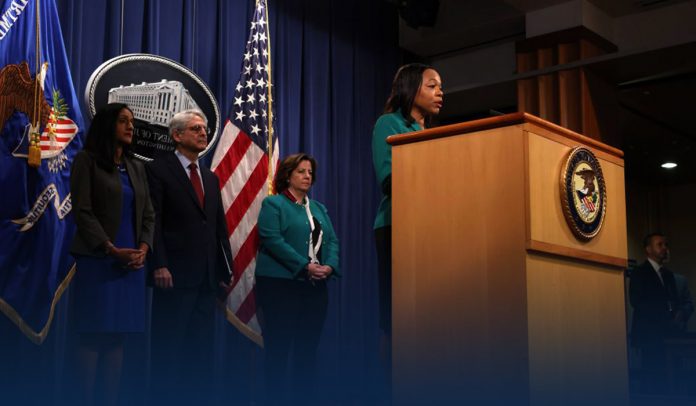 On Friday, Merrick Garland, US Attorney General, announced that the US Department of Justice is suing Georgia over its new voting law, alleging GOP state legislators rushed through a sweeping overhaul with the intention to restrict the ballot access to Black.
On Friday, Merrick Garland said in announcing the lawsuit that where they believe in the civil rights of US people have been violated; they wouldn't hesitate to act.
GOP legislators in Georgia pushed back immediately, vowing a forceful defense of Georgia's voting law.
Today the DOJ sued Georgia over the voter suppression bill lawmakers passed this year.

SB 202 is an unjust law, and this is a positive step toward ensuring every eligible voice is heard. But it also underscores the urgent need to pass federal voting rights legislation.

— Reverend Raphael Warnock (@ReverendWarnock) June 26, 2021
Garland said at the conference that their complaint alleges that past changes to state's voting laws were enacted to abridge or deny the Black Georgian's right to vote on account of their color or race, in violation of 'Voting Rights Act, Section 2.'
The suit marks the first significant act from the US administration to combat a sequence of new limited voting measures passed by GOP-controlled state legislatures. And it came on the 8th anniversary of the United States Supreme Court verdict to gut another critical provision of Section 5 of the Voting Rights Act.
Mr. Garland noted that Georgia state experienced record voter participation and turnout in the 'election cycle 2020.'
Read Also: Biden lambasted Georgia's crackdown on voting access as 'Jim Crow in the 21st century'
Open Attack on US Constitution
The move by Joe Biden's government comes fourteen days after Attorney General said Justice Department would scrutinize new laws in GOP-led states that made voting rules stricter. Moreover, he stated that Fed. Government would act if prosecutors found an illegal move.
Brian Kemp, Governor of Georgia, said while responding to the declaration that the suit is 'born out of the misinformation and lies the Biden government has pushed against' Georgia's election law.
State Secretary Brad Raffensperger said in a statement that he looks forward to meeting them and beating them in the court. American President called the Georgia voting law 'a an open attack on the US Constitution.'
Stacey Abrams, a Democratic former Georgia state representative, tweeted praise for the US Department of Justice, declaring that US people have an ally on equal voting rights, regardless of the party, race, or zip-code. Moreover, Abrams was grateful to Merrick Garland, Associate AG Vanita Gupta, and Deputy AG Lisa Monaco for defending Georgian people against this assault on their freedom to vote.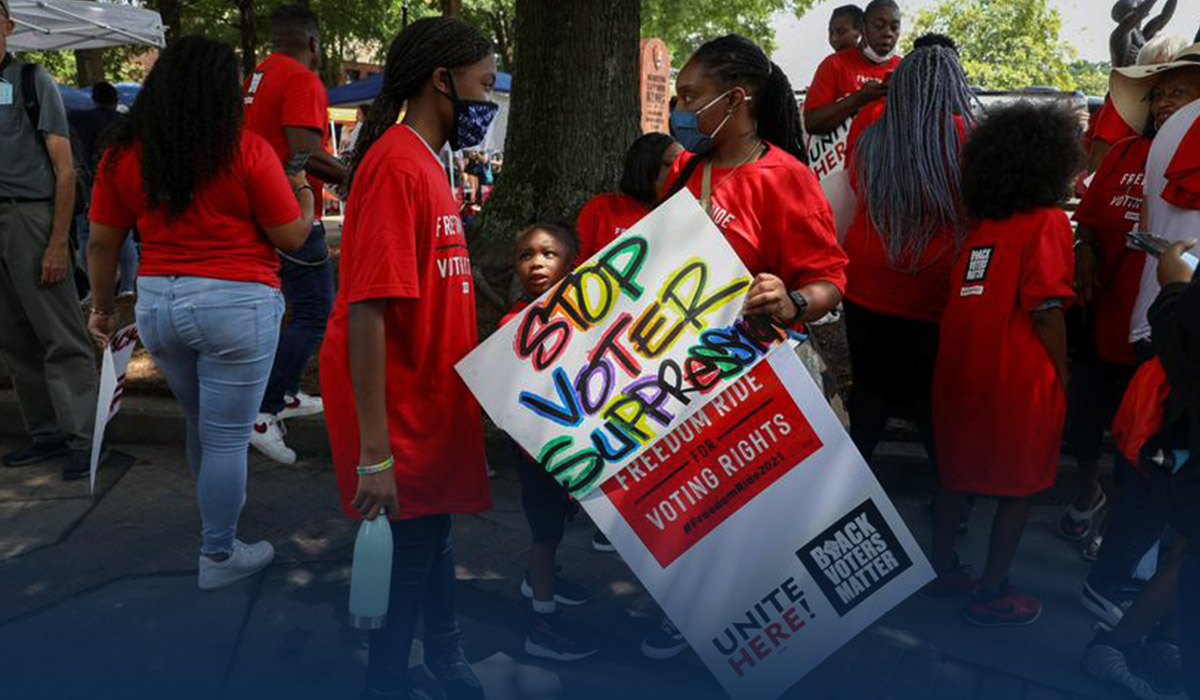 Furthermore, the voting bill, known as SB 202, adds a voter-ID requirement for mail ballots, shortens the period for requesting the ballot, and results in fewer ballot drop boxes available in metro Atlanta.
The GOP governors of Florida, Arizona, and Iowa have also signed new voting limits in 2021, while state legislatures in Texas and Pennsylvania are trying to advance similar voting measures.
Those US States would be battlefields in 2022's midterm elections, which would be determining the control of the United States Congress.
Read Also: Washington Post Fact-Checkers Slam Joe Biden for Georgia Voting Law Claims