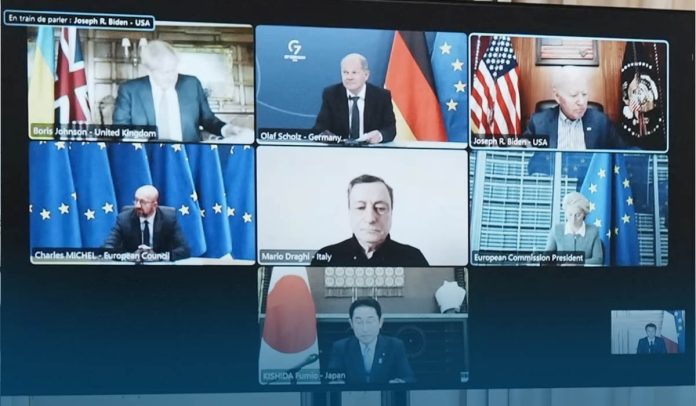 On Sunday, Joe Biden, the United States President, and leaders of the Group of Seven (G-7) met with Volodymyr Zelenskyy, the President of Ukraine, to continue their efforts to support the post-Soviet state of Ukraine and build on their unparalleled consequences and export controls.
The G-7 nations have committed to prohibiting or eliminating Russian oil and energy imports, and America revealed sanctions against the executives from Gazprombank (GPB), a private-owned Russian bank and the third-largest bank in Russia by assets, to punish Kremlin for its large-scale brutal incursion of neighboring Ukraine.
The Group of Seven – Canada, Germany, Italy, France, Japan, Britain, and the US – an organization of the world's seven largest and advanced economies, which dominate world trade and the global financial system, has heightened a drive against Russian elites and oligarchs who support Vladimir Putin, the President of Russia, whom the inter-governmental political forum blamed for bringing disgrace for Soviet Union's victory over Nazi Germany (1945) in the Second World War.
According to the White House statement, the Group's unparalleled sanctions are already a massive toll on the economy of Putin's Russia, and their export controls have restricted access to critical tech elements and the supply chains it requires to sustain its military ambitions and goals. Moreover, Moscow's all-out war in Ukraine is projected to destroy the last fifteen years of financial gains in the country.
Furthermore, the US senior administration official said that as a consequence of G-7's export controls, Moscow is struggling to refill its military weapons and ordnance. The two major battle tank manufacturers – Chelyabinsk Tractor Plant (CTZ-Uraltrak) and Research and Production Corporation Uralvagonzavod – have stopped work amid a shortage of foreign components.
Russian State-Media, Industrial Sector Added to Sanctions List
Nearly one thousand private sector firms have announced that they're limiting or stopping their businesses in Putin's Russia. In addition, the reports show that over two hundred thousand Russians, the majority of them highly skilled, have left the country. Indeed, all of these consequences would aggravate and escalate gradually.
Moreover, according to a White House official, the United States will levy costs on three of Russia's leading government-controlled TV stations – Russia-1, Channel One Russia JSC, and Gazpacho-Media-controlled NTV Broadcasting Company. The official also said that these three Television Stations have been among the major receivers of foreign revenue, which feeds back into the country's revenue and bolsters Putin's brutal war.
The Biden administration announces new sanctions on Russian state-controlled media and banking executives. This comes following President Biden's virtual meeting with G7 leaders and #Ukraine️ president Zelenskyy. #UkraineRussianWar

— Stephen Michael (@stephenreports) May 8, 2022
According to a senior government official, PJSC Sberbank, Moscow- headquartered majority state-owned banking and financial services company that holds 33 percent of Russia's banking assets, and Moscow Industrial Bank (MIB), along with its ten subsidiaries, were added to the latest sanctions list.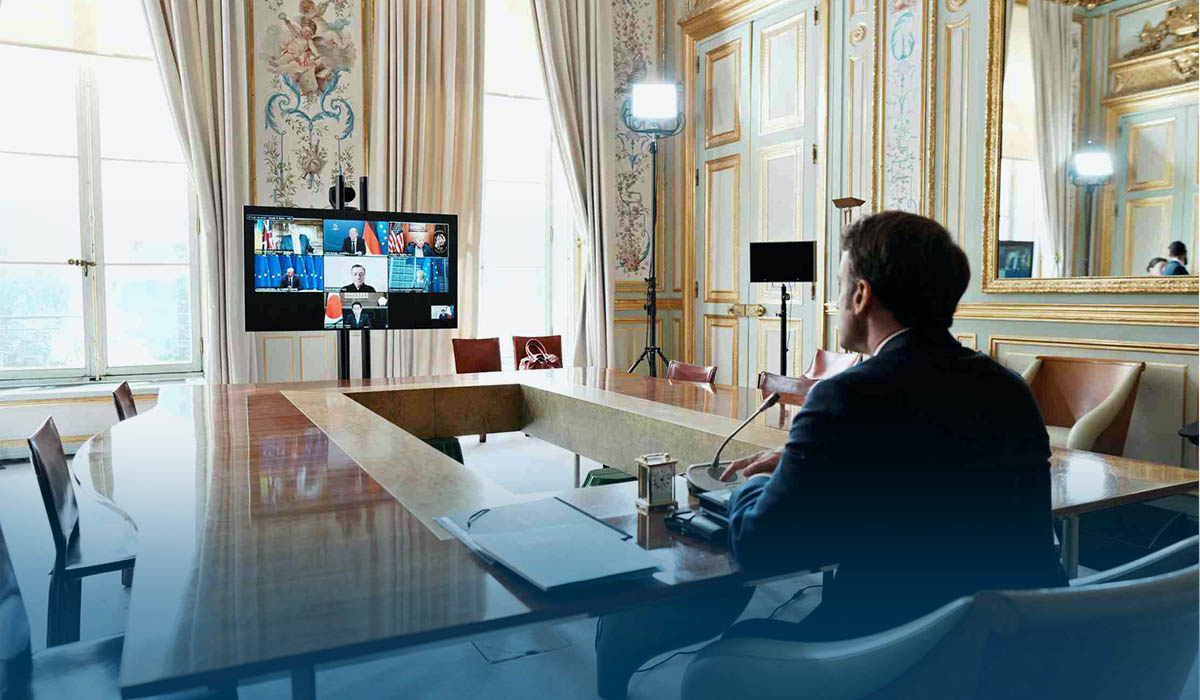 Additionally, America will also impose severe sanctions and restrictions on Putin's industrial sector, including bulldozers and industrial engines, as well as a wide range of wood products, motors, boilers, fans, and air ventilation equipment, and several other items with commercial and industrial applications.
Read Also: U.S. First Lady Expresses Thanks to American Personnel in Romania