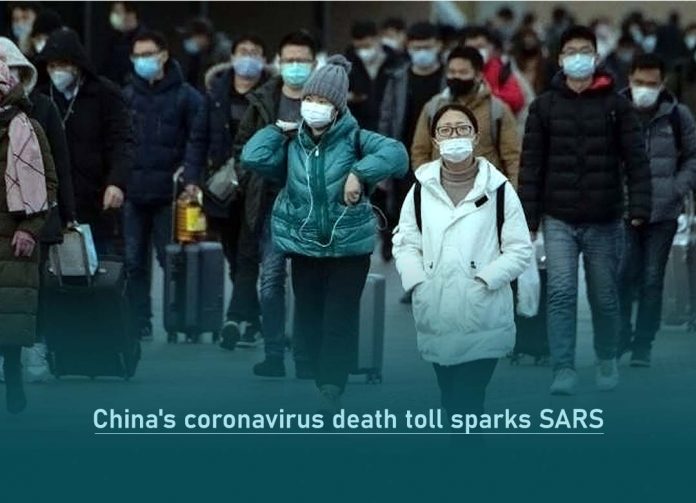 Death toll from Wuhan coronavirus in China soared to 361 according to latest statistics up to Monday morning to beat the number of the death rate of SARS in 2002 and 2003. Also, a lot of infected people dying in the quarantined ground-zero of the epicentre. The fifty-seven confirmed deaths were the major increase since the virus outbreak in December 2019 in Wuhan, the Chinese city. It believed that the virus transmitted from animals to humans from an illegal wild animal market.
Since then, the coronavirus spread to over twenty-four countries of the world, instead of several governments imposing extraordinary travel bans on travellers coming from mainland China. The World Health Organization (WHO) announced a global health emergency while the first death out of China reported in the Philippines on Sunday. All new fifty-seven deaths instead of one belongs to Wuhan and the remaining reported in Hubei province.
According to the official health authority of China, the local death toll soared to 361, surpassing the 349 China death toll because of SARS (Acute Respiratory Syndrome) outbreak about two decades ago. SARS another form of coronavirus also originated in China, and it killed around 774 people and major other deaths in Hong Kong.
Economic woes of Coronavirus
The fast-spreading coronavirus also has a progressively huge impact on the economy, as it closing down businesses in China, restricting global travel and also affecting the production lines of some major international brands. On Monday morning, the stock markets in Shenzhen and Shanghai plunged by almost 9% as shareholders returned from a Chinese Lunar New Year holiday that had extended to overcome spreading of virus by stopping people from travelling around China.
A lot of firms fell by maximum 10% as shareholders got their first chance in over seven days to react bad news from spiralling of coronavirus. However, the shares of tourism and travel plunged after national and international travel restrictions imposed to slow the spreading of the virus. Meanwhile, people living in Wuhan have a deep fear of catching the coronavirus, and social activities in the city almost died because of it.
The total number of infected persons in China also raised to 17,205. After extensive increasing patients' number, the government of China rushed to build two new hospitals on an urgent basis to deal with the infected ones. Roads in Wenzhou, 500 miles (eight hundred kilometres) to the east, locked and its around 9 million people strictly ordered to stay indoors. Authorities announced that only one inhabitant per family in Wenzhou allowed going outside in two days to purchase necessary food and goods for the whole family.
China completed a makeshift hospital in 10 days to battle against novel #coronavirus in Wuhan, epicenter of virus outbreak in central China's Hubei. Check a time-lapse video recording construction process pic.twitter.com/Gi1z3sygJV

— China Xinhua News (@XHNews) February 3, 2020
Travel Curbs for China
The health emergency regarding coronavirus overlapped with the Chinese Lunar New Year, when hundreds of millions of people all over China in buses, trains and airplanes for family reunions. Formerly, the Lunar New Year holiday scheduled to end last Friday, but extended to three additional days to give extra time to authorities to deal with the virus crisis. However, some big cities of China, including Shanghai, extended the holiday again, whereas, several schools, colleges and universities, delayed the start of new terms.
The transport ministry said that on Sunday the road traffic down about eighty percent when hundreds of people would expect to return their cities of work. According to Xinhua, train rides were down seventy-four percent as compared to last year while airplane journeys during the holidays of the new year down around a fifth. In a bid to give an edge to their employees, several firms offered personnel to work from home or simply off.
The Spread of the Coronavirus
Confirmed cases of 2019-nCoV as of February 3rd, at 07:00 GMT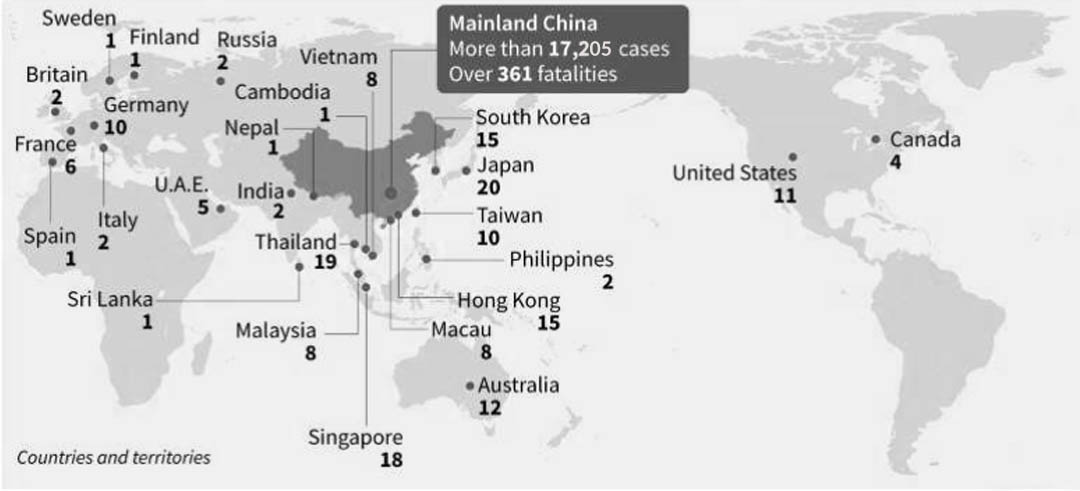 To Stop the Spread-out of coronavirus
The G7 countries such as the United States, the United Kingdom, France, Canada, Japan, Germany and Italy all have confirmed positive cases of coronavirus. Jens Spahn, the Health Minister of Germany, said on Sunday that they would discuss a joint response regarding the virus outbreak.
New Zealand, the United States, Israel and Australia prohibited foreign citizens from visiting their countries if they visited China in the recent past, and they also warned their nationals to travel there. Nepal, Mongolia and Russia closed their land borders with China.
Read Also: Closings of Apple store in China could delay 1 million iPhone sales