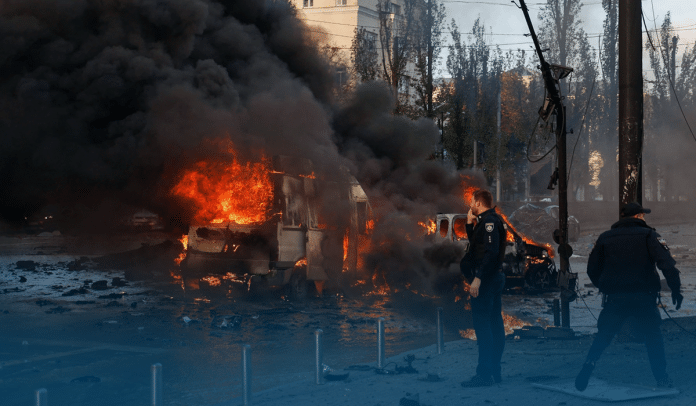 On Friday, the Russian military forces launched nearly 76 missiles on Ukraine's vital infrastructure in the most significant attacks of the Russo-Ukrainian war that have caused extensive power blackouts all over the country. The latest heavy shelling on Dec. 16 struck at least four Ukrainian cities and took the lives of at least three innocent residents in Kherson and Kryvyi Rih, according to local officials.
According to the authorities in Kherson, an apartment building caught fire amid the missile strikes in the region. The Governor of Kyiv Oblast, Oleksiy Kuleba, said that Moscow Armed Forces were massively striking Ukraine in the latest coordinated air attacks, which have been striking the East European country's energy facilities since October 2022.
⚡️Rescuers retrieve body of 1-year-old from under rubble in Kryvyi Rih.

Rescuers retrieved the body of a one-and-a-half-year-old boy killed by a Russian missile attack on Dec. 16 from under the rubble of his home in Kryvyi Rih, Dnipropetrovsk Oblast Governor Reznichenko said.

— The Kyiv Independent (@KyivIndependent) December 17, 2022
The Governor of Kyiv province urged the residents after the massive attacks started early Friday that the attack was ongoing. Therefore, seek shelter and safe places. Later on Friday, the Ukrainian top military official said that Kyiv's air-defense systems had intercepted sixty of the missiles launched at energy facilities. Furthermore, Volodymyr Zelenskyy, the President of Ukraine, said Russian forces had enough artillery and shells for several such massive attacks.
According to Ukraine's Prosecutor General's Office, Moscow's barbarity has taken the lives of at least 450 children, wounded 863 since 24 February. However, the real figure is anticipated to be higher as the current tally doesn't include casualties in Moscow-controlled land or where hostilities are continuing.
Severe Power Outages in Kyiv
Shelling from air-defense weapons and hammering blasts combined with the sound of air-raid sirens as the rockets targeted energy facilities in southeastern Zaporizhzhya, the Capital Kyiv City in north-central Ukraine, northeastern Kharkiv, and Kryvyi Rih in Ukraine's Central region. Moreover, Ksenia Semenova, a member of Kyiv's city council, said that sixty percent of city residents suffered from outages on Dec. 16 and seventy percent from the water supply.
Semenova added that the rapid transit system was out of service on the Day and will not likely be operational on Saturday, December 17. Moscow's attacks on energy facilities have occurred intermittently since mid of October, increasing the suffering of innocent Ukrainian people as cold weather sets in. However, the Armed Forces of Ukraine have reported increasing victories in intercepting Russian's-launched missiles and killer UAVs.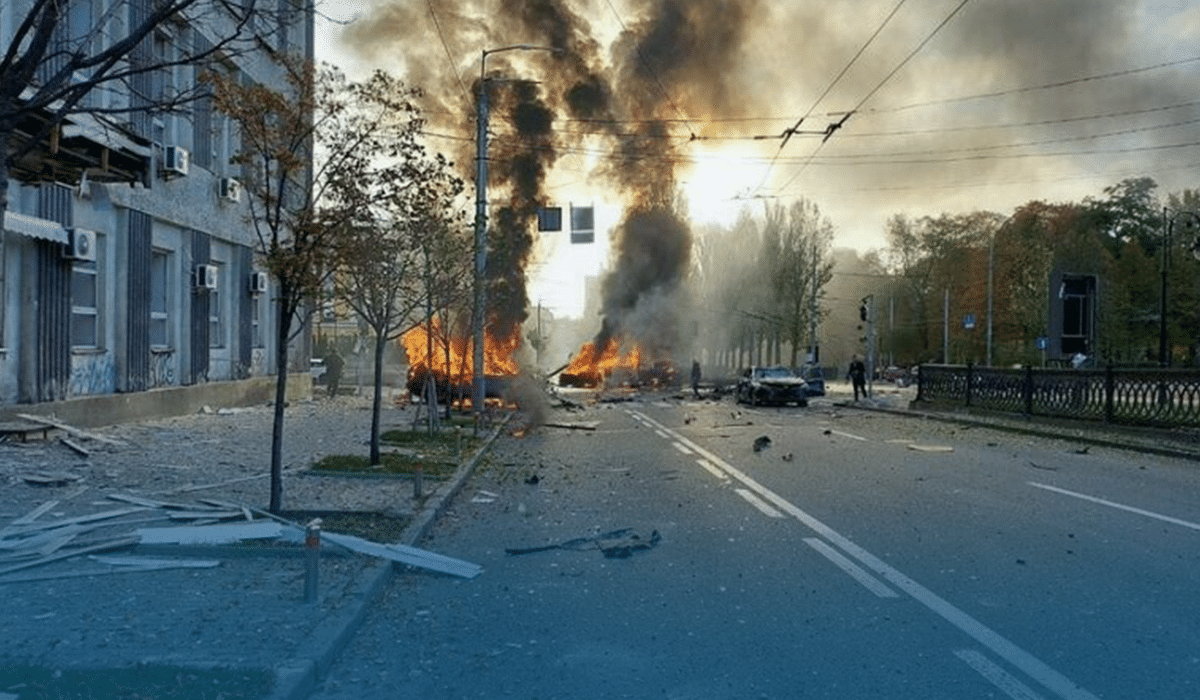 The bombardment on Friday occurred after America decided to provide Patriot missile systems to the Zelenskyy military this week to further strengthen the country's defense. On Thursday, Russia's Ministry of Foreign Affairs cautioned that the advanced weapon system and any troops accompanying it would be a real target for Moscow forces.
Read Also: U.S. to Expand Military Training of Ukrainian Soldiers in Germany