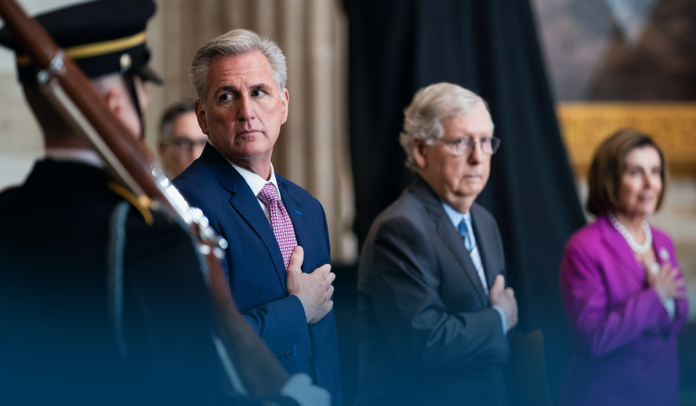 On Tuesday, Kevin Owen McCarthy, Minority Leader of the US House of Representatives, confirmed that if GOP takes control of the United States Congress in the November Midterms, the Republican party is likely to oppose further assistance to war-torn Ukraine in its efforts to defend itself against Moscow's barbarity.
Since the Russian military launched its brutal incursion on Feb. 24, the majority of Democrats and GOPs in Congress have joined together in approving massive economic, humanitarian, and military packages for courageous people and defensive forces of Ukraine as a moral standing against Russia's unjustified and violent attacks.
Kevin McCarthy, the U.S. representative working for California's 23rd District, could be a U.S. House Speaker if his party wins next month's midterm elections, signaled that that could end in a Republican-controlled House. In addition, Californian GOP told the Punchbowl News, an online political news daily in Washington, that he believes people are going to be sitting in a recession, and they wouldn't write a 'blank check' to Kyiv.
Instead, McCarthy recommended that US people want the governing body to concentrate on matters closer to home. He added there are things the current administration isn't doing domestically; not doing the border, and Americans have started to weigh that. The House Minority Leader also said that East European Ukraine is important as as it's a key regional strategic partner of the US, but simultaneously, it couldn't be the only subject they do, and it couldn't be 'a blank check.'
However, just after a few hours, Michael Thomas McCaul Sr., Ranking Member of the U.S. House Committee on Foreign Affairs, who is expected to be running the committee in the event of a GOP triumph in Midterm elections, said that ordnance deliveries to Kyiv should be increased.
Ukrainians should 'get what they need' in Their Defense – Rep. Michael McCaul
The U.S. Representative for Texas' 10th District added that Washington has armed Ukraine with what it needs in its defense. Specifically, he mentioned the ATACMS (Army Tactical Missile System), which would provide Ukrainian Armed Forces (UAF) with the capability to hit Russian targets at longer distances compared to the missiles the government is currently delivering. According to an American official, those advanced weapons include M142-HIMARS having a range of nearly 80 kilometers.
Since Mr. Joe Biden took office in January 2021, America has authorized more than 60bn dollars in assistance to Ukrainians, with upward of 18.2bn dollars in defense aid provided to Kyiv forces. The United States Senate voted 86/11 on May 19, 2022, to approve approximately 40bn dollars in security and humanitarian support for Ukraine in an effort to reject Putin's cruel incursion of the neighboring state – the most significant investment in war-torn Ukraine so far.
On October 14, Washington recently announced another military aid package worth 725M dollars for UAF to continue their defense operations against Russian invaders. That defense aid included additional munition for HIMARS, as well as Humvees, artillery shells, and other arms and equipment, according to the US Defense Department.
Read Also: NATO Kicks off Annual Exercise 'Steadfast Noon' in Belgium